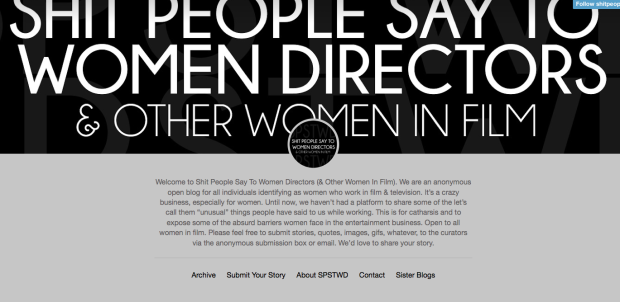 An in-depth review of Hollywood's problem with women
"You could try to hold your camera like this… but your breasts would probably get in the way."
"Women do not belong on set unless they are in hair and makeup."
"Your main job is basically to be my work wife. You need to anticipate my needs. Especially when my wife's on her period."
"Women just freak out all the time. They're crazy. Their hormones are all over the place and they can't be calm and rational. They make the worst producers."
These are just a few of the depressing testimonials from the new blog Shit People Say to Women Directors (& Other Women in Film). Launched in April, the site calls attention to the blatant sexism and barriers women working in the film and entertainment industry face. In less than 24 hours, it received enough material for a year's worth of posts. The anonymous stories come from a wide range of women working in film and television, from directors and actresses to writers and crew members. And if the blog posts aren't proof enough of the gender bias in the entertainment industry, there are no shortage of studies or women in Hollywood speaking out against the horrible way women are treated.
Sadly, women in the silent film era were better off than women today; at one point back in the day, the highest paid director was even a woman. Yet today, if you look at the top 500 films from 2007-2012, the average ratio of male actors on screen to female actors is more than two to one, according to the New York Film Academy. If you look at the ratio of men to women working on films, the numbers get even more depressing at 5:1. Of all the directors, executive producers, producers, writers, cinematographers and editors working on the top 250 domestic grossing films of 2012 only 18 percent were women, reported Celluloid Ceiling, a comprehensive study of women working in film.
Recently, actress Maggie Gyllenhaal revealed that at 37 she was told she was too old to play the love interest of a 55-year-old leading man. A review of top grossing romantic films found that the average age of a woman lead is 29, compared to 37 for leading men. In the male-dominated wish fulfillment film industry, it's unfortunately no surprise that ageism exists and an older man seducing a woman in her 20s is the norm. Female fetuses are currently being auditioned to fill the role Gyllenhaal couldn't.
Comedian Amy Schumer recently mocked this practice on the Season 3 premiere of her hit show Inside Amy Schumer. In "Last F**kable Day" Schumer, Julia Louis-Dreyfus, Tina Fey and Patricia Arquette celebrate the day the media decides female actresses are no longer desirable, poking fun at the ridiculous double standards Hollywood has for women.
Hollywood's gender bias extends to everything from screen time to pay scale. The top 10 highest paid actresses made a collective $181 million while the top 10 male actors made $465 million, according to a 2013 Forbes study of Hollywood's highest paid actors and actresses. One of the biggest reveals of last year's Sony hacking scandal concerned the movie American Hustle and the fact that Jennifer Lawrence and Amy Adams were paid less than the film's male stars.
It's not just woman actors Hollywood has given up on. At this year's Cannes Film Festival, Salma Hayek accused Hollywood of giving up on women viewers as well. Despite making up 50 percent of the ticket-buying public in the U.S., Hayek noted that Hollywood thinks the only films women wants to see are dumbed-down romantic comedies (I believe these are commonly referred to as chick flicks).
Hayek also discussed the sexism and racism she's experienced in Hollywood. One Hollywood executive told her that her Mexican accent was a drawback since it might remind moviegoers of their maids. A talented actress, Hayek has been reduced to playing a hot trophy wife co-starring alongside fart jokes and punches to the crotch in the Grown Ups movie franchise. (Never mind the fact that they keep making these movies, which just seems like one giant punch in the crotch to moviegoers everywhere.)
The examples of Hollywood sexism are endless. Melissa McCarthy recently called out a sexist critic over comments he made about her appearance. In this month's Fast Company cover story, Amy Poehler talks about being in meetings with powerful Hollywood men who ask her where her kids are, implying she's a neglectful mother who doesn't see her kids enough—something they would never ask a man. Speaking at Cannes of her new film A Tale of Love and Darkness, Natalie Portman admitted to being afraid to direct herself in the film because people might see it as a vanity project, despite the fact that they would never do so if she were George Clooney.
As if Hayek and Portman's Cannes comments weren't enough to confirm that sexism is coming soon to a theater near you, #flatgate happened. The #flatgate controversy emerged when an unnamed festival source was quoted in the British press saying that women on the festival's red carpet must wear high heels or risk being turned away. This after several women in flats were, in fact, turned away from a screening of the new Todd Haynes movie. Paris Hilton at your festival is classy; flats are not.
The no flats policy—which I initially thought was an Onion story— happened in a year when Cannes was trying to appear more female friendly by showcasing a number of films with strong female leads and selecting Standing Tall by Emmanuelle Bercot as the festival's opening film, the first time a woman director has opened the festival since 1987.
Flatgate comes on the heels of this year's #askhermore. The social media campaign to get red carpet reporters to ask actresses about their accomplishments rather than focus on who and what they're wearing launched during this year's Oscars. As if it's not bad enough that women are hugely underrepresented when it comes to awards nominations—even more so for women of colour—they then have to endure full body camera pans on the red carpet and endless internet snark about their dress choices. At the 85th Academy Awards in 2013, across 19 categories, 140 men were nominated compared with 35 women. And in its entire history, only four women have been nominated for a best director Oscar. Of the four, only one woman has won: Kathryn Bigelow in 2009 for The Hurt Locker—regrettably, not for Point Break.
Response to the #askhermore campaign was mixed with some arguing that awards carpets are for talking about fashion with many celebrities, using the opportunity to promote brands and designers. Admittedly, at my Oscar party, the possibility of Ryan Seacrest going off script to discuss global warming with Sienna Miller increased wine consumption by at least 30 percent. As the man responsible for Keeping Up with The Kardashians, Seacrest has already unleashed enough awful on us and must be stopped.
I know the responsibility shouldn't be on Reese Witherspoon's shoulders to stop sexism on awards night, but I'd love to see actresses simply refuse to walk the red carpet or show up in a Dinosaur Jr t-shirt with a chip dip stain on it and sweatpants—a little look I like to call "Saturday night." At least the dreaded Mani Cam was gone after many actresses refused to participate in it and Elizabeth Moss famously flipped it off in 2012. Peggy Olson would be proud.
The double standard certainly doesn't end when actresses are off screen. In the same week that #flatgate broke, actor Bill Murray appeared lit like a road flare on MSNBC. Having just wrapped up a final Letterman appearance in which he chugged vodka, Murray drunkenly wandered onto the MSNBC set like he got lost looking for the washroom. He proceeded to spectacularly fall off his chair and then slur his way through an interview.
The next day, there were no calls for Murray to go to rehab, no concerns about whether his drinking was out of control or whether his career would ever recover from his drunken television appearance. If Murray had been a woman, the internet would still be talking about it and not in a good way. Instead, the internet found it all very charming. Full disclosure: I found it amusing, but that's because Murray's midlife crisis is way more entertaining to witness than my own.
But it's not just Hollywood who is fed up with the double standards. Earlier this month, the American Civil Liberties Union (ACLU) announced it will ask federal and state governments to examine the hiring processes studios use for directors and investigate the discrimination faced by women directors. While the discrimination certainly extends beyond directors, the ACLU investigation provides some hope, especially given the possibility that studios and networks could be charged with gender discrimination.
The hopeful moments tend to be short-lived. The 2011 success of the Kristen Wiig-penned Bridesmaids—the film grossed $288 million worldwide and was nominated for a best picture Golden Globe as well as an Oscar for best original screenplay and best supporting actress—was seen as ushering in a new wave of smart funny films by and starring women. Despite a few films like 2012's Bachelorette, the "Bridesmaids Effect" seemed largely to be a mainstream media construct that, sadly, yielded few lasting effects. Also, cooking with summer squash is an example of a trend; women being funny is not.
When Kathryn Bigelow won best director, people were optimistic the situation would improve for women in Hollywood. Similar optimism greeted the box office success of director Catherine Hardwicke's Twilight, which had the biggest opening ever for a female director, and also, most recently, Elizabeth Banks' Pitch Perfect 2. Still, having a woman behind the camera is not the norm. An annual studio by San Diego State University found that women directed only 7 percent of the top 250 grossing films last year, two percentage points lower than in 1998.
Disappointingly, it seems like the responsibility to end Hollywood's gender bias falls largely to the women. Meryl Streep recently announced she will fund a mentoring initiative for female screenwriters over 40—further proof that Meryl is awesome. Her announcement comes after reports that both the number of female screenwriters, as well as their pay levels are dismal. At last year's SXSW keynote Girls actress and creator Lena Dunham—who also wrote, directed and acted in 2010's wonderful Tiny Furniture—said "Something has to change and I'm trying." Both Dunham and Girls have certainly had a positive effect, but we haven't come a long way, baby.
Oscar-winning actress and director Helen Hunt summed it up perfectly in a recent Huffington Post interview: "What are the great movies for younger women where they're the protagonist [being] made now? You know what I mean? The whole thing — there's no equal rights amendment. We're fucked." And Hunt should know. At 34 she played 60-year-old Jack Nicholson's love interest in As Good As It Gets. At least she got an Oscar for it.