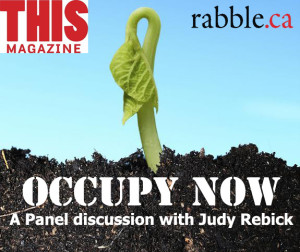 Join This Magazine and rabble.ca on November 4 in Toronto for a discussion on Occupy. Together with moderator Judy Rebick, our panellists will look at Occupy now. Three years after the movement took over our national conversation, what has changed?
Our panellists include: Lia Grainger, a This Magazine reporter who visited nine camps across Canada and the U.S.; Krystalline Kraus, an indigenous activist with Idle no More and Occupy Toronto; Humberto DaSilva, a labour activist and organizer with Occupy Toronto; Nora Loreto, a Québec City-based activist who wrote about Occupy Sandy efforts and visited Occupy camps across Canada; and Emmay Mah, an organizer of the People's Climate March in Toronto who has worked in the non-profit sector on issues such as HIV, child rights and Aboriginal health..
They will discuss Occupy's effects today: the gains it has made challenging the one percent, ongoing displays of protest and activism, plus its role in inspiring other, modern movements. Panellists will also discuss threats to Occupy's success and how we can sustain momentum.
The event starts at 5 p.m. and light refreshments will be provided after the talk. Donations are welcome. Location: CSI Spadina, Alterna Room.