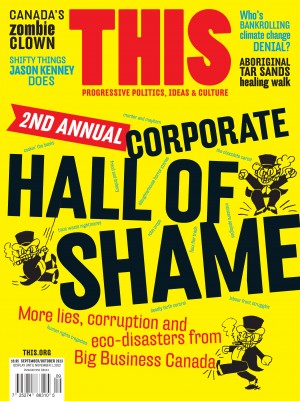 To kick off This Magazine's Every Film is Political series, we present WAL-TOWN, a timely documentary on Wal-Mart's business practices.
This fall, we begin a new film screening series at the TRANZAC (292 Brunswick Avenue), featuring documentaries and narrative films that tackle current political and social issues. The series kicks off on September 25 with WAL-TOWN, director Sergeo Kirby's NFB-produced look at the business practices of mega-retailer Wal-Mart and the ongoing debate of the company's effect on towns across Canada.
With Wal-Mart Canada eyeing Toronto's historic Kensington Market neighbourhood for future development, public attention has again turned to Wal-Mart and the radical effects of the retail giant's business practices. When RioCan announced plans to install a 125,000-square-foot Wal-Mart in the former site of Kromer Radio (just beside the distinctive, fabled Kensington Market), the Friends of Kensington Market formed to oppose the deal, and Toronto City Council passed a bylaw to freeze current development on the Bathurst strip.
The screening of WAL-TOWN will shed some light on the current Kensington situation, as well as tie into the September/October issue of This Magazine: our annual Corporate Hall of Shame issue. The screening will be followed by a panel discussion moderated by This Magazine editor Lauren McKeon, debating some of the issues raised by the documentary and the current Kensington Wal-Mart proposal.
The Every Film Is Political series is a fundraiser of This Magazine's Red Maple Foundation. Tickets, to raise much needed funds for the ongoing print operations of the nearly 50-year-old publication, will be $15 at the door for the screening and include a copy of the Corporate Hall of Shame issue. Event is on Sept. 25, doors open at 6:30 p.m.
This Magazine would like to thank CUPE Ontario for their support of this event. For information about their Stand Up for Fairness Campaign please visit standupforfairness.ca.
You can also buy tickets in advance at our online shop and get the 2013 Corporate Hall of Shame issue now, plus last year's Hall of Shame as a free bonus issue!