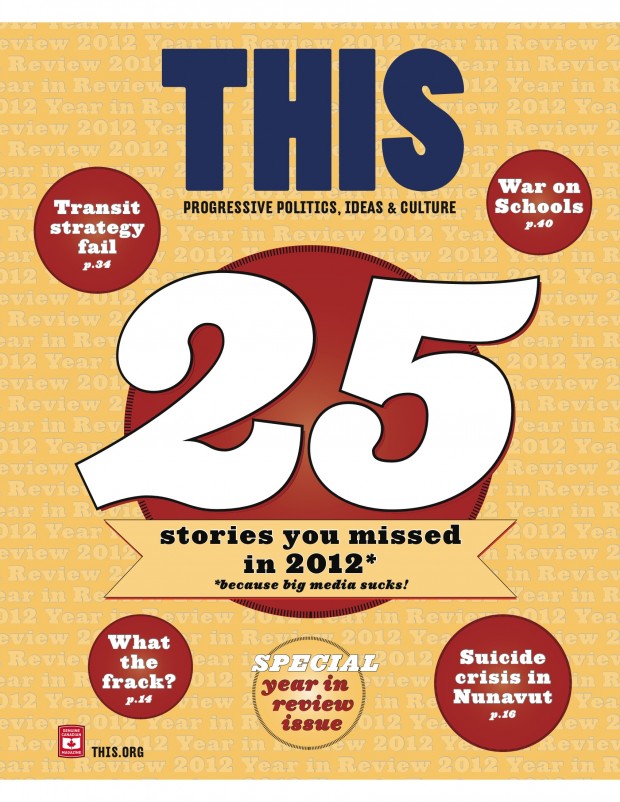 Our special 2012 year in review issue is now in stores. This newsstand-only special issue is available for a limited time only so get yours today. TODAY!
You can also order a copy online (leaving the house is hugely overrated). Just visit and we'll send you your copy today.
This is our first ever year in review issue and it's unlike anything you've read before. You won't find any stories on baby bumps, fashion trends or celebrity couples (take that, Brangelina!). We promise no Hollywood weddings, break-ups, binges or trainwrecks (take that, Lohan!). Ditto for so called newsmakers, trendsetters and endless hot or not hot lists.
What you will find inside are the top 25 stories you missed in 2012–but shouldn't have. These are the stories that matter. They are the stories big media often overlooks, doesn't delve deep enough into or sometimes just refuses to cover. They are stories about standing up for the environment and in opposition of irresponsible development. They are stories about fighting against decisions based on fear mongering, profits and corporate buddy benefits. They are stories about rights and people that don't have them, but should.
We hope you enjoy the issue and look forward to hearing your thoughts. We're already started working on this year's list.