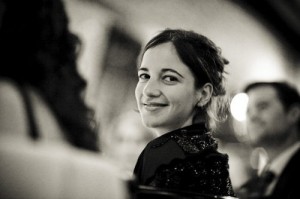 They're called social media for a reason, but for activists like Susanna Haas Lyons, tools such as Facebook and Twitter have much more to offer than funny cat videos and photos of your baby niece.
"People spend an average of 14 minutes a day on Facebook," says Vancouver-based Haas Lyons, a 33-year-old public engagement consultant who sees an opportunity to steer Canadians toward more political conversations in that space. "We can start to really advance civic capacity to be taking leadership on pressing issues." During a six-year stint with America Speaks in Washington, D.C., Haas Lyons helped integrate social media into the massive nonprofit's citizen engagement initiatives, such as following up on Hurricane Katrina relief programs and grappling with how to bring jobs back to Ohio's Rust Belt. But, she is quick to add, the goal is "never to replace face-to-face conversation, but to augment face-to-face conversation."
Her current focus is the Alberta Climate Dialogue, a citizen-participation initiative that brings together individuals, businesses, and NGOs to help Alberta municipalities mitigate and adapt to climate change. After five years, the group wants to be able to share its views and experiences with the provincial government in an effort to change the political conversation on the always-heated topic. The tools and technologies may be new, but it comes down to a core belief that will be very familiar to activists of earlier generations: the personal is political.
"My hope is that in each of these individual democratic engagement pieces, we're building civic capacity to have hard conversations," Haas Lyons says. But she also knows there are challenges ahead for activists in social media. "People go on Facebook to look at photos and watch funny videos. We have to make it relevant, not just available."
Mason Wright
Then:
This Magazine
web editor 2004 – 2008), photo researcher, contributing writer, and substitute art director for one issue (March/April 2006).
Now:
Evening news editor, online,
The Globe and Mail
.