Separating the hax0rs from the n00bs in Canada's parliament
Part of Barack Obama's victory came on the back of a grassroots campaign that effectively used the internet to collect supporters and funds. Among social-media-savvy politicians, the president is The Man. While Obama might be down with the kids today, have any Canadian leaders managed to cash in on the social-media cachet? Or is Twitter anathema to politicians raised on lawn signs and pancake breakfasts?
[some figures have been updated since November 2008 publication]
Stephen Harper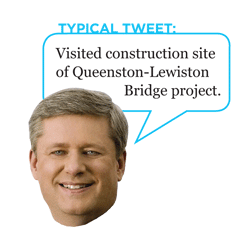 Presence: Harper has accounts on Flickr, Twitter, YouTube, FriendFeed, Facebook, and even MySpace. Besting the other leaders, he has over 42,600 Twitter followers and 29,300 Facebook fans, where his third-person profile proclaims he is a curling fan. The Conservatives have even ventured into an attempt at viral marketing with their Ignatieff.me attack website.
FAIL or FTW? Harper's tweets, which typically begin with words like "Statement," "Visited," and "Announced," sound like stodgy, third-person press releases. Is Harper a man? Is he a machine? Are his tweets being written by a Communications dropout from Laurier? All we know is that they are vaguely reminiscent of headlines that appear on the fronts of government-owned newspapers in tinpot dictatorships.
Typical Tweet: Visited construction site of Queenston-Lewiston Bridge project.
Michael Ignatieff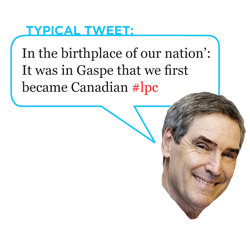 Presence: More than 28,700 Facebook fans are privy to Ignatieff's reading habits, which include Dostoyevsky's The Possessed, the poetry of Czeslaw Milosz, and the essays of Isaiah Berlin, and he has over 34,300 Twitter followers. IggyTube, his YouTube channel, features dozens of videos—though most have fewer than 1,000 views.
FAIL or FTW? Although more comfortable with bandying "I" than Harper, Ignatieff's self-conscious use of "we" to denote his real, actual Canadianness undermines the effort. His Twitter feed is also short on interaction with real, actual Canadians.
Typical Tweet: In the birthplace of our nation': It was in Gaspe that we first became Canadian #lpc
Jack Layton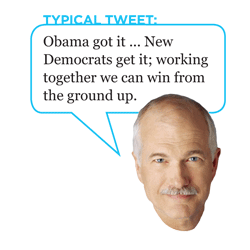 Presence: Layton has adopted Flickr and FriendFeed accounts and has over 32,600 followers on Twitter, despite the background being that eye-burning hue of NDP orange. His Facebook page has more than 27,700 supporters. There, he says his favourite movie is Star Wars.
FAIL or FTW? Layton's Twitter account is the office equivalent of the chirpy guy who comes in on a hungover Monday morning, praising the latest sales targets and joshing with the boss while trying to steal his job. The leader's over-caffeinated updates often include Twitpics of him posing with the common folk.
Typical Tweet: Obama got it … New Democrats get it; working together we can win from the ground up.
Elizabeth May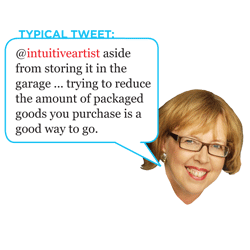 Presence: May can be found on YouTube, Flickr, Twitter with 6,100 followers, and Facebook with 6,400 supporters. She uses Facebook Notes to blog about topics like media speculation on the upcoming election.
FAIL or FTW? If you ask May a question on Twitter, she will probably respond to you.
Typical Tweet: @intuitiveartist aside from storing it in the garage … trying to reduce the amount of packaged goods you purchase is a good way to go.
Gilles Duceppe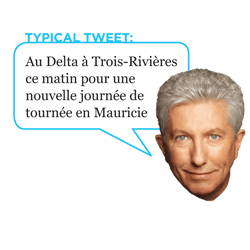 Presence: In addition to maintaining a "blogue" at blogue. blocquebecois.org, Duceppe can be found on Twitter and Facebook, where he's acquired a following of around 23,000 followers and 3,900 fans, respectively.
FAIL or FTW? While most leaders make an effort to use French and English, Duceppe is French-only, perhaps explaining why he has a social media following on par with an infrequently updating English-Canadian blogger.
Typical Tweet: Au Delta à Trois-Rivières ce matin pour une nouvelle journée de tournée en Mauricie