UPDATE, Sept. 22, 1:55 pm: CanWest Postmedia reports that C-391 sponsor MP Candice Hoeppner "has all but conceded defeat" and "given up on last-minute lobbying" for today's vote, and calls the eight liberals and 12 NDPers who voted in favour last time, "turncoats." She estimates the government is one — one! — vote short, which is why it's all hands on deck today: Jack Layton told reporters "Everybody will be there unless somebody gets struck by lighting." The Prime Minister also flew back from New York where he was addressing the UN.
UPDATE, Sept. 22, 3:56 pm: There were questions about the registry during Question period, but seems to be nothing new to add based on that. However, Susan Delacourt just published a surprising and sad story about why Liberal MP Scott Simms, who originally voted to abolish the registry, has changed his mind today: because between the last vote and this one, his father took his own life, and the weapon he used was a long gun. Simms will not be talking about it publicly, but a colleague tweeted the story put the gun registry in "unprecedented perspective" during this morning's Liberal caucus meeting. Addendum: Barb Adamski replies to us on Twitter that no gun registry is in a position to prevent suicides by a determined person, which it must be conceded is a fair point. However, it does not negate many other good reasons to register guns, and the fact that the story broke today is bound to be significant, no matter how indirect the connection to the vote itself. Addendum to the addendum: Delacourt explains on the Toronto Star blog why they published the story today before the vote.
*****
Today is the day that parliament will vote on bill C-391, An Act to amend the Criminal Code and the Firearms Act. This private member's bill (full text here), introduced by Candice Hoeppner, the Conservative MP for Portage-Lisgar, Manitoba, on May 15, 2009, if passed would bring about the end of the long gun registry, which is one component of the Canadian Firearms Program.
Note that there is a difference between a gun licence and gun registration — the RCMP describes the distinction as being analagous to a driver's licence and vehicle registration. There are also three classes of firearms that the program regulates: non-restricted, restricted, and prohibited. Ordinary hunting rifles and shotguns have always been "non-restricted" — that is, anyone over 18 can purchase and own them as long as they're registered and licensed.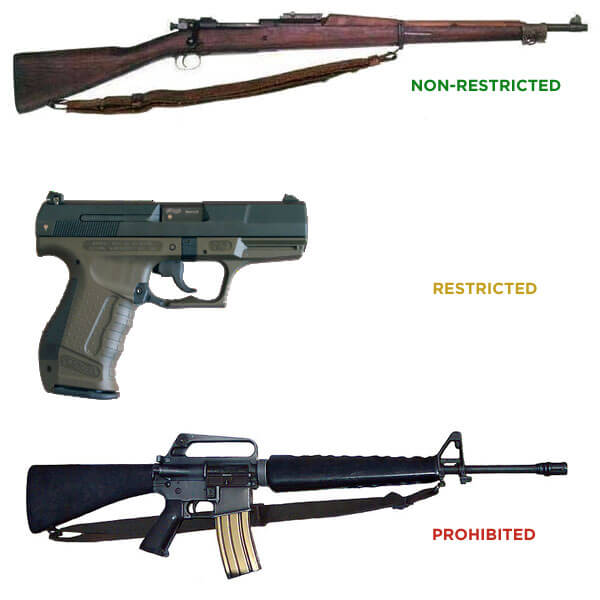 Bill C-391 does not affect licensing requirements; the only thing the bill would repeal is the requirement to register a non-restricted firearm — i.e., a rifle used  for hunting game. The reason this distinction is important is because critics of the gun registry have focused on its cost, and they claim that repealing these requirements would save money. This claim, to put it bluntly, doesn't hold water. The RCMP will continue to run a gun registry; almost all of the expense will continue to be incurred whether Bill C-391 passes or not.
The cost of the long gun registry has been widely misreported, misinterpreted, and deliberately overblown. An RCMP report (completed in February but not given to Parliament until August; it was promptly leaked to the CBC) has placed the cost of the long gun registry portion of the Canadian Firearms Program "in the range of $1.1 and $3.6 million per year." The "$1 billion" figure that Prime Minister Stephen Harper and other Conservative politicians have repeatedly quoted is simply not accurate. According to that same report, according to The Tyee, the $1 billion figure actually refers to the entire cost of the whole Canadian Firearms Program from 1995 to 2007.
The other source of criticism of the long-gun registry is generally perceived to split along urban-rural lines, with many game hunters unhappy at the cost and inconvenience of having to register their firearms. Hoeppner, introducing her bill, claimed that "law-abiding Canadian hunters, farmers and sport shooters … have been treated like criminals" since the introduction of the registry (in its current form) in 2001. As James Laxer noted this week on Rabble, however, the urban-rural break is a red herring. Plenty of people in the country want the registry to continue, particularly rural women. When polled, 47 percent of rural women supported the registry.
The registry's other important support continues to be police forces themselves, who have unambiguously spoken out in support of the gun registry for years. Toronto's Chief of Police, Bill Blair, is also president of the Canadian Association of Chiefs of Police, and testified before parliament on Bill C-391 on May 26, 2010. He was clear on the position of law enforcement on the gun registry — it's not a panacea, it's a tool, and a useful one.
Like all of the tools we use, the firearms registry is not a perfect, universally effective tool. Not every criminal will register their weapons. Not everyone will obey the law. It will not deter every criminal nor will it solve every crime. The police never claimed it would.

What we do claim, with the authority that comes from actually using the information contained in the Firearms Registry every day, is that it is a tool that helps us do our job.

[…] In 1994, the CACP adopted a resolution calling upon the Government of Canada to enact legislation requiring the registration of all firearms, including long guns. This is a position from which the CACP has never wavered.
Leading up to today's vote, police forces and other pro-registry groups from across the country — from Halifax to Toronto to Vancouver — have joined together to call for the registry's continuation. The CACP, along with the Canadian Police Association and the Canadian Association of Police Boards issued this helpful one-pager correcting the "Top 10 Myths of the Canadian Firearms Program":
Despite all this, today's vote is expected to be a squeaker. When C-391 was last voted on, it passed with 164 votes in favour and 137 votes against, with 8 Liberals, 12 NDPers, and one independent siding with the Conservative government.
This time around, Liberal leader Michael Ignatieff has pledged to keep his party members in line to vote down the bill. NDP leader Jack Layton has not whipped his party, and NDP MPs will be free to vote their conscience. (Bloc Québécois MPs will all vote opposed, as they did last time). Layton has told the press that he is confident that the bill will be defeated, and that he has persuaded enough MPs in his caucus to switch their votes.
We'll be following what goes on as we get closer to this evening's vote, which is expected to happen around 5:45. Keep checking back here for details, or follow us on Twitter for any quick developments that crop up today. Have any questions about C-391 we haven't answered here, or have any tips? Leave your questions and everything else in the comments below…