Jonas Naimark took one of the most striking photos from Sunday, showing the demonstrators and bystanders hemmed in by riot police at the corner of Queen and Spadina. This is just a small portion of the image; click to see the remarkable full-size photo on Naimark's website.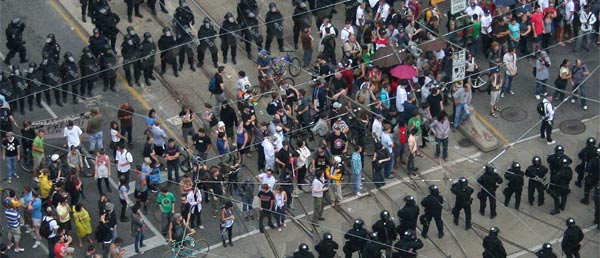 One of the most notorious images from Saturday was a Twitpic of a burning police cruiser, snapped by Alex Posadzki, which as of this morning had been viewed more than 18,000 times. As many commentators pointed out, the G20 saw four police cruisers burnt, compared to the 16 destroyed in Montreal by celebratory rioters after the Montreal Canadiens won a hockey game in April. But this has still become an indelible image, and footage of burning police cars quickly became a recurring motif of the television coverage over the weekend.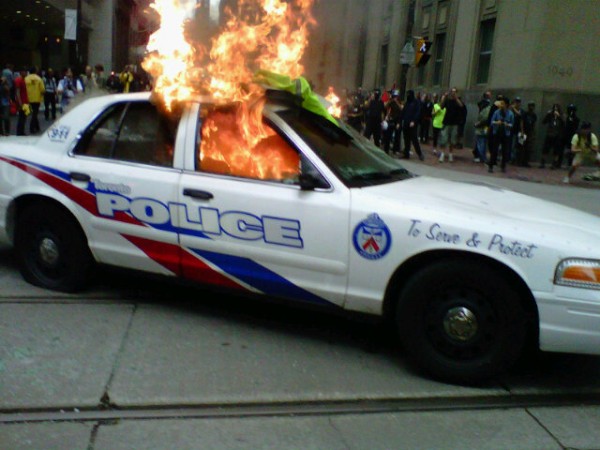 The sense of creeping anxiety didn't start for most of us until Friday afternoon when Jeff Robson tweeted this photo of riot police crammed dozens deep in an alleyway as peaceful protesters went past on College Street. In hindsight, it was a harbinger of things to come: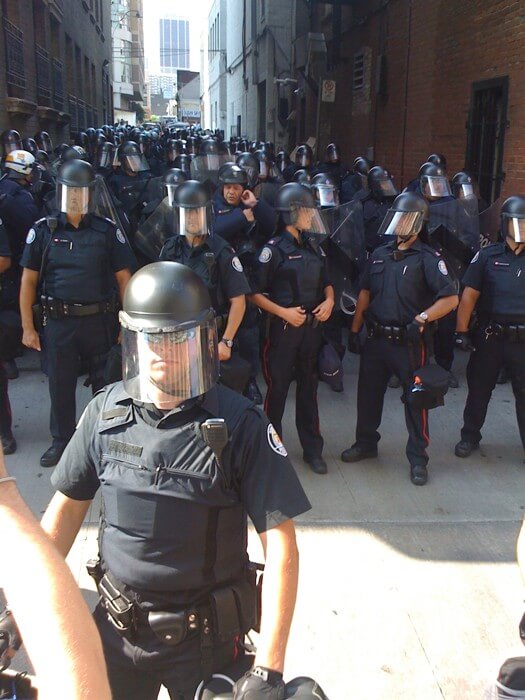 The strange juxtapositions came hard and fast this weekend; while protests and a record 900 police arrests continued outside, reporters from the foreign press were a the international media centre at the CNE, where the Toronto Star's Richard Lautens found them watching the Germany-England match at the World Cup. For big-media skeptics (like us!) this photo says a lot about the failings of the mainstream media covering the G20.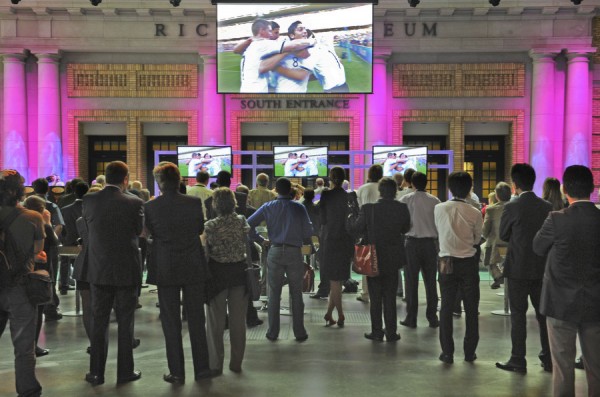 And lastly, from the Department of Grimly Hilarious Symbolism came this Torontoist photo of the "eternal flame" at Metro Hall—a symbol of the "hopes, aspirations and triumphal achievements burning within the human spirit," says its commemorative plaque—extinguished and encased in a plywood cover. It's been lit since May 1996, but the G20 was enough to snuff it out: