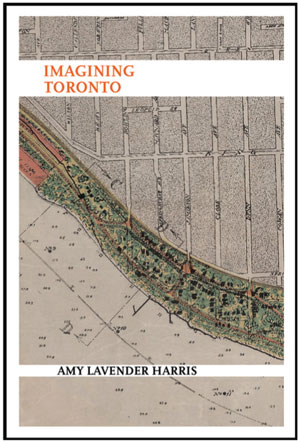 Long before communities existed on Facebook, there were tangible places in a city where people with common interests converged. In a place like Toronto, where communities of different cultural groups and ideas form in often isolated pockets, the struggle to define a common identity among them is as old as the city itself. But part of Toronto's identity crisis is a literary tradition that reaches back more than 150 years, predating contemporary literary celebrities like Atwood and Ondaatje.
In her new book, Imagining Toronto, York University geography professor Amy Lavender Harris creates a literary map of that identity building. What she finds is a literary scene that is reflecting the city's shifting geography, moving into inner suburbs like Scarborough and North York, and well into deep suburbia: Pickering, Vaughan, Ajax.
Harris began writing her book two years ago after scouring the city for books for a Toronto literature course. She soon found herself delving into the city's literary history, as framed by the narratives of iconic neighborhoods like the Annex, Parkdale and Cabbagetown. Now she has oriented the city's public spaces in its literature, tracing Toronto's identity to the streetcar lines and architectural icons that recur in its literature.
It's those architectural icons that often define the Toronto identity, for better or worse. "The CN Tower comes to mind because it's the most iconic, as well as in some ways, hated, symbol of Toronto," she says—but that was until Michael Lee-Chin's crystalline addition to the Royal Ontario Museum was unveiled, Harris notes.
Harris says there is plenty of literary history to left to map. "If you could say everything there was that could be said about Toronto, then it would be a pretty boring place."