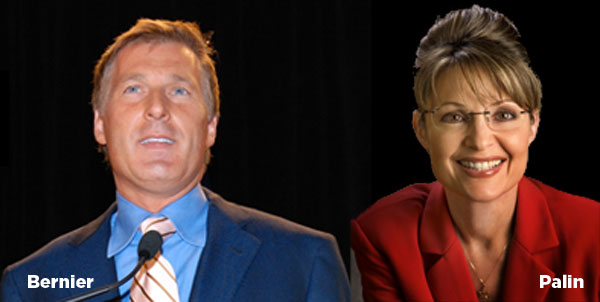 All the papers last week were abuzz about an op-ed written by now-backbench Conservative MP Maxime Bernier. Writing how climate change is an unsure thing indeed, he said his party was on the right track by playing it cool in Copenhagen.
He was roundly criticized by Canadian media and bloggers. Globe contributor Robert Silver called him Canada's Sarah Palin. The National Post's article on the matter began with Environment Minister Jim Prentice stating that the Harper government did not share Bernier's skeptical position on the science. And Sun Media writer Lorrie Goldstein's article, Mad Max makes sense on climate change, stated: "The good news is Harper is better on climate change than the opposition parties. The bad news is, that's not saying much."
Wait a minute. Harper not strong enough on climate change? Sounds like something we've been saying for a while.
Goldstein, however, thinks he hasn't rejected climate change enough. Even believing in the evidence is too much.
But that's okay, who reads the Sun anyway?
Oh right, lots of people.
Sun Media Corp. is Canada's largest newspaper publisher, having eaten up dozens of mainstream dailies and hundreds of other community papers. It reaches over 10 million Canadians.
Bernier's view was echoed by Conservative bloggers and comments in online articles. There was significant talk of Bernier setting up a future leadership run for the Conservative Party.
Move over to provincial politics and Ontario's Conservatives have already chosen their Bernier. Leader Tim Hudak, elected last year, is a right-winger through and through. The Party's environmental platform is perhaps yet to be hashed out for the next election, but there are rumours that the Green Energy Act—a new staple of support for renewable energy projects in the province—might be something Hudak would repeal.
This would be made politically salable by the unexpectedly strong pressure from supposed grassroots organization, Wind Concerns Ontario, which has branches in towns across the province. Hundreds come out to environmental assessment meetings to oppose wind establishment in their areas. These people are finding a friend in Tim Hudak.
Similarly, the Ontario Landowners Association is one to watch. The organization is another collection of rural groups from across the province with a membership 15,000 strong who support policies that may appear radical or American to their urban friends. And though some are good stewards of their land, they may not be interested in hearing about climate policy.
Although Randy Hillier, first president of the Association, lost soundly to Hudak in the Party's leadership bid, its strong anti-Liberal message of rural land rights and ability to bus people to meetings may give Hudak the desire to lean on it in the next election. Having been in a room of rural Ontarians during a presentation by climate change skeptic Patrick Moore, I know that there is a widespread desire to hear and believe in the other side.
Drilling down one more level to municipal politics, Rocco Rossi, former National Director of the Liberal Party of Canada and inner-circle advisor to Michael Ignattieff has thrown his hat in the ring for Toronto Mayor, promising to ditch bike lanes and pause the city's ambitious transit plan. After having taken Al Gore's climate presentation training, this so-called "liberal" is looking to plan a city without the critical infrastructure necessary to support a safer method of travel for both cyclists and drivers, ditching a key urban carbon reduction measure.
But could it work for him? With commuting cyclists currently making up a very small proportion of residents, a move to make driving even appear more convenient, in a time when traffic jams clog Toronto morning streets, might be politically expedient in many Toronto neighbourhoods.
The United States is undergoing a strong movement of its far-right known as the Tea Party, described in a weekend article by Frank Rich. Rich warns to take the group seriously. The Tea Party has got people in the U.S. talking, and its mainstream conservative party getting nervous.
American writer Chris Hedges gives his answer to the movement and the weakness of Barack Obama (at Copenhagen and beyond), in a piece yesterday stating that the progressive left and the Democrats have succumbed to cowardice and have lost their energy. He urges a move back to third parties on the left, suggesting that a credible alternative to the state of the economy and society is what is most needed to bring the public onside, not liberals talking about policy all the time.
And so in the rural revolution and climate change deniers and their supportive media and blogs, Canadians may have our version of the Tea Party. While Americans, politics may be their hockey at the moment, we too may soon have an excited right which could pit itself against climate progress at a level that even Stephen Harper won't touch. And whether that means bringing rural landowners in for climate consultation or starting a socialist revolution, it sounds like something worth planning for.