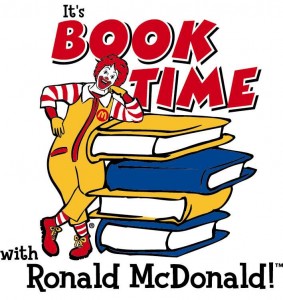 I was going to say that it looks like the Vancouver Public Library has drunk the Olympic Kool-Aid, but then, Kool-Aid maker Kraft Foods isn't an Olympic sponsor, so in fact it must be some sort of Coca Cola product. But whatever it is, it's inducing the crazy: VPL marketing and communications manager Jean Kavanagh circulated a memo to all library staff telling them to be vigilant about policing brand names on display in libraries and at events during the Olympics. It was circulated in the fall, but only just came to light.
Here's a nauseating little snippet of Kavanagh's list of "Do's and Don'ts", as reported by the Tyee:
"Do not have Pepsi or Dairy Queen sponsor your event," read guidelines sent to VPL branch heads and supervisory staff last fall. "Coke and McDonald's are the Olympic sponsors. If you are planning a kids' event and approaching sponsors, approach McDonald's and not another well-known fast-food outlet."
Among other things, the memo reportedly goes on to say that if  librarians have a guest speaker in from, say, Telus instead of Olympic sponsor Bell, they should make sure they're not wearing a Telus jacket or other logo-wear while they're speaking. And if there is any audio-visual equipment being used, make sure it's from Worldwide Olympic Partner Panasonic. But Jean — what if it's a Sony brand CD player? The horror! Kavanagh is a step ahead of you with this helpful tip: "I would get some tape and put it over the 'Sony,'" Kavanagh [told the Tyee]. "Just a little piece of tape."
The president of CUPE 391, which represents Vancouver's librarians, told the Globe and Mail that these rules are non-starters:
Alex Youngberg, president of the library union, says the memo is contrary to the spirit of a public library. "There's something in my library to offend everybody," she said. "And that's our job. Our job as library staff is to not ever censor any information."
C'mon Alex, why be such a Debbie Downer? Catch the Olympic Spirit! Catch it! NO REALLY — CATCH IT. CATCH THE SPIRIT.