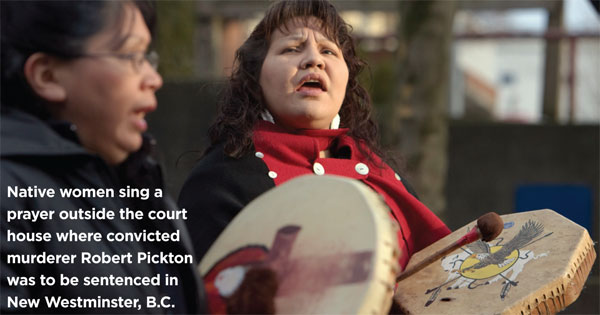 Canada has a problem: since the early 1980s, over 500 Aboriginal women have been either murdered or reported as missing.
It's a shocking figure that's motivated a pair of self-identified "survivors of the sex industry" to form the Coalition Against Violence Everywhere, an organization dedicated to stopping the violence by challenging the common narrative that the murdered and missing women are just prostitutes and addicts.
Robyn Bourgeois and Robbyn Zwaigenbaum founded CAVE last March after meeting in a University of Toronto Gender and Violence class taught by Bourgeois, a Lubicon Cree from Northern Alberta.
"The focus is on Aboriginal women but we understand violence to be everywhere," says Bourgeois, adding that CAVE acknowledges that women of all shades and nationalities are under attack in Canada.
CAVE's approach to fighting this violence involves portraying the women as "humans" as opposed to violent labels found in mainstream media. "Social constructions are on specific bodies that create stigmatization. This is the very reason that the level of violence in our society exists. The only way for us to eradicate violence is to first concentrate on de-stigmatization," says Zwaigenbaum.
They put these ideas into practice with their first campaign, organized last spring to combat the stigmatization of Robert Pickton's victims. Says Bourgeois, "We wanted to show that these women were mothers, daughters, and sisters. We wanted some meaningful way of representing them as beautiful and loved women."
With the help of 12 dedicated volunteers, CAVE created 78 postcards, each containing the name and photo of a missing or murdered woman (including several of Pickton's victims), as well as the URLs of related websites. Each postcard was tied to a balloon and set free in front of the Toronto courthouse.
Bourgeois explains that this project humanized the women, making them more than just numbers. Permission to use the photos and names was given by the families of the women. "Ultimately, anything we do has to be in line with the families," says Bourgeois.
On October 4, 700 similar postcards were displayed at the Native Women's Association of Canada memorial for the murdered and missing women. Now the pair hopes to turn the postcards into a travelling art exhibit to help raise awareness about the missing/murdered women and CAVE.
"It's unfortunately a continuing project," explains Bourgeois. "I mean, over the weekend we lost another Native woman [Hillary Angel Wilson, found dead on August 20]. So it's something that's going to evolve constantly."