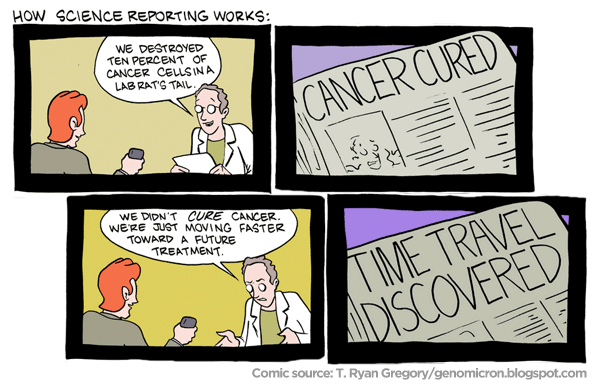 When the news came out yesterday that the largest-ever HIV-AIDS vaccine drug study had concluded with modestly positive results, there was certainly reason to be glad. There was not, of course, any reason to call the damn thing a "miracle vaccine," as the Dallas Fort-Worth NBC affiliate did. The actual announcement from the U.S. National Institutes of Health, which had conducted the study in Thailand, made no such claims, saying only that the experimental vaccine had a "modest preventative effect":
In an encouraging development, an investigational vaccine regimen has been shown to be well-tolerated and to have a modest effect in preventing HIV infection in a clinical trial involving more than 16,000 adult participants in Thailand. Following a final analysis of the trial data … the prime-boost investigational vaccine regimen was safe and 31 percent effective in preventing HIV infection.

"These new findings represent an important step forward in HIV vaccine research," says Anthony S. Fauci, M.D., director of the National Institute of Allergy and Infectious Diseases … "For the first time, an investigational HIV vaccine has demonstrated some ability to prevent HIV infection among vaccinated individuals. Additional research is needed to better understand how this vaccine regimen reduced the risk of HIV infection, but certainly this is an encouraging advance for the HIV vaccine field.
There's a lot of qualifying language in there: "encouraging development," "modest effect," "important step forward," "some ability," "additional research is needed," "encouraging advance," and of course, that not-exactly-miraculous number, "31 percent effective." The AIDS Committee of Toronto posted a cautionary tweet late yesterday afternoon, pointing to a somewhat less breathless article that quoted some other AIDS vaccine researchers:
"Wow. Wow," said AIDS vaccine researcher Ronald Desrosiers, head of the New England Primate Research Center in Southborough, Massachusetts. "Looking at the numbers, it's underwhelming to me. […] Dennis Burton, an immunologist at the Scripps Research Institute in San Diego, California, had a similar reaction. "It's very early days," said Burton. "People should be enormously cautious now."
So without proclaiming "Cancer Cured!" let's just say that this is good news, and research will continue, and while we're waiting for better news, we still have to improve HIV-AIDS education and prevention.