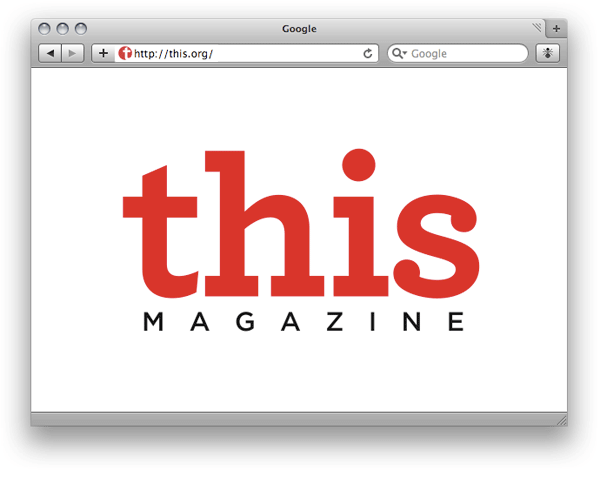 We're excited today to unveil the all-new-and-improved, holy-cow-it-took-us-long-enough, next generation This Magazine website, this.org. I flipped the switch on the site early this morning and as far as I can tell all the bells and whistles are working as intended. You can now read our daily blog at this.org and read all the magazine's print edition articles at this.org/magazine. Magazine articles will now be posted on an ongoing basis, with a new article every other day or so; by the time the issue's full content is online the new one will be in your mailbox (if you're a subscriber) or on the newsstand at better booksellers coast-to-coast. We've taken bold steps in the direction of 2002's hottest! online! trends! and added commenting throughout the site, on magazine articles as well as blog posts. There are RSS feeds now available too, for just the blog, just the magazine, or both combined, so you can read what you want, how you want.
We're not junking thismagazine.ca or BlogThis, but they're moving to the back burner and won't be updated with new material from here on out. Gradually our old website articles and blog posts will be moved from the old sites to the new one. You might notice, for instance, that we're currently missing about the last five weeks' worth of blog posts; a small technical hitch that I'm working on. Some author names also got lost in the shuffle, but we're working on restoring them. The website is always a work in progress, so I figured it was better to launch even with a few small hiccups and let you poke and prod and send your feedback.
Thanks for being a reader and supporter of the magazine, whether you subscribe or read for free online. This is a strange time for print publications like This: lots of people are proclaiming the death of print media, but we're feeling pretty optimistic, actually. Our experience over the last little while has been that people still like and value having This Magazine in print, and the type of journalism our talented and passionate contributors work so hard to do. At the same time, we feel it's important to establish a mmore robust, meaningful, and two-way web presence, and this.org is the start of that. Take a look around, let me know what you think—either with a letter to the editor or by kicking the tires on the new commenting system.