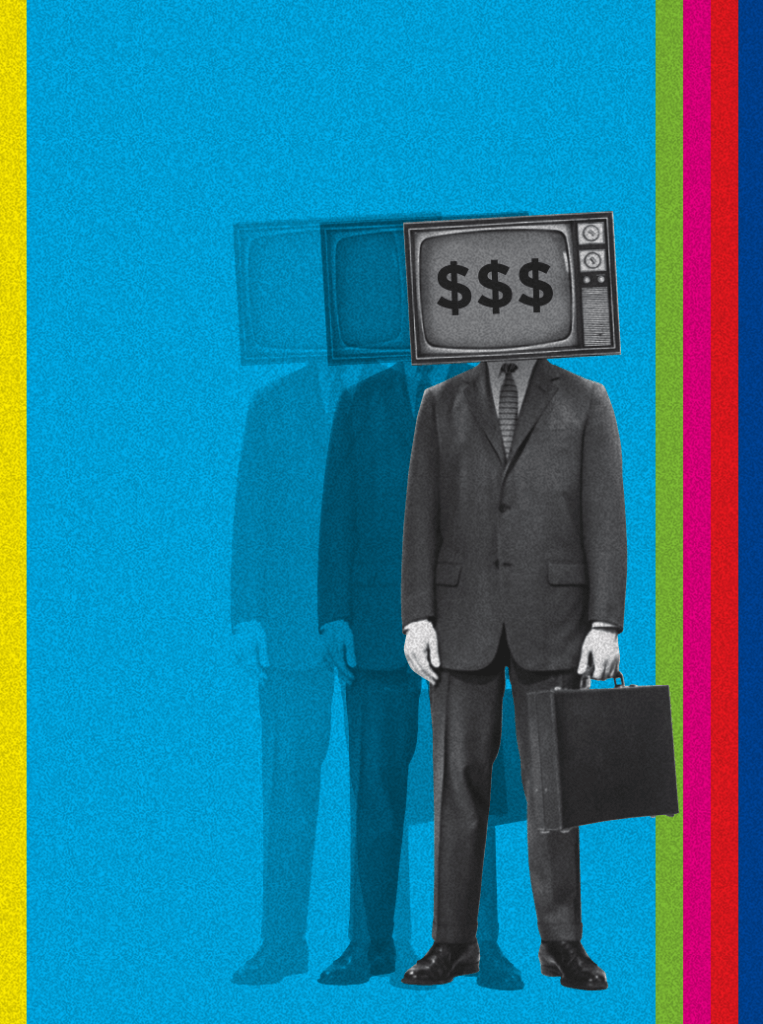 "Do Canadians really use the word 'eh?'"
"Yes, they do."
Welcome to one of OMNI television network's flagship shows, Your New Life in Canada. Produced in English, Punjabi, Cantonese, and other languages, it offers a taste of Canadian lifestyle, culture, and language to newcomers to Canada and covers everything from how food differs in Canada to what work environments are like in the country. Keep watching the Rogers Media network, and you'll see anchors talking current affairs and local news in Mandarin, Vietnamese, or Tagalog, or even a broadcast of Hockey Night in Canada in Punjabi. The glitz and the glamour of Canada's linguistic diversity: that's OMNI's shtick.
Canada's multicultural media isn't a topic that appears much in mainstream news. But in November, the Canadian Radio-television and Telecommunications Commission (CRTC) will gather a large group of media broadcasters in Ottawa to decide the future of multi-ethnic and multilingual media in Canada. The topic in question: which media network will be granted a special broadcasting licence, regarding section 9(1)(h) of the Broadcasting Act, worth millions of dollars. (For the sake of clarity, we'll refer to it as the 9(1)(h) licence.)
The tussle for winning this speciality licence for ethnic media has been simmering since the CRTC took strict action against Rogers Media this year. In 2017, the CRTC awarded the 9(1)(h) licence to Rogers Media for OMNI. This licence makes possible the broadcast of certain diverse channels—including the Aboriginal Peoples Television Network (APTN), CBC News Network, CPAC, and Accessible Media Inc. (AMI) TV— to millions of Canadians as a mandatory service, in an effort to improve access to media programming in languages other than English and French. A majority of 9(1)(h) licence holders are non-profit organizations that seek to serve the regional and national audience through a publicly funded television network. But the Quebecor group and Rogers Media are two for-profit corporations that have been awarded 9(1)(h) licences to air as a broadcasting distribution undertaking (BDU)—meaning Canadians pay a certain fee for TV or digital media services for a certain number of TV channels. As a result, these channels are considered taxpayer-funded.
Now, the CRTC is changing its tune over the Rogers deal, restricting its licence after 2020. The commission is asking the rest of Canada's television producers to bid to replace Rogers— but the company is pledging not to go down without a fight. In the end, it has spoiled a process intended to diversify content across the country. Ethnic media has become a game of money and power—and it has largely gone unnoticed in mainstream Canadian media.
***
The 9(1)(h) Act came about in 1991 to promote multilingual media for the multi-ethnic Canadian population. According to the section on BDU, the criteria for assessing the value of a certain service include whether the programming safeguards, enriches, and strengthens "the cultural, political, social and economic fabric of Canada; is drawn from local, regional, national and international sources; [and] includes educational and community programs." There is another criterion, one that's key to this article: that the programming "reflects and contributes to Canada's linguistic duality and ethno-cultural diversity, including the special place of Aboriginal peoples in Canadian society." (Twenty percent of Canadians use a language other than English and French at home, according to Statistics Canada.)
In 2017, Rogers received its licence from the CRTC for its OMNI Regional channels. The mandatory carry of OMNI as a digital basic service awarded to Rogers Media—one that is publicly funded—saved the network. Two years prior, Rogers Media shuttered multiple stations across Canada, citing unprofitability. The new 9(1)(h) licence was supposed to ensure a steady stream of revenue for OMNI's newly rebranded regional feeds in B.C., Alberta, Ontario, and Quebec, covering all regions of Canada. OMNI Regional broadcasts news and current affairs stories about local communities across Canada, programming considered critical to many communities. These regional broadcasts also carry multilingual and multi-ethnic programming of national interest.
But based on the criteria laid out by the CRTC, issues around Rogers' use of the licence arose. In 2017, Unifor, the Chinese and Southeast Asian Legal Clinic, and the Urban Alliance on Race Relations filed a complaint against Rogers Media for using Mandarin and Cantonese newscasts produced by Fairchild TV, an outside contractor. Under OMNI's licensing agreement for basic distribution, Rogers Media is supposed to produce and broadcast original content for the local communities where it operates. OMNI's BDU application was approved for developing a regional feed model—with four regional feeds broadcasting from the west to east coasts.
Some consumers aren't happy about the programming either, claiming that dependence on outside sources has left them with stale content. One viewer from Surrey, B.C., whom we'll call Harpreet, says OMNI's recent programming has turned his family off of the network. "There are no shows that interest me," he says, particularly of OMNI's Punjabi programming. "Most of them have been taken from somewhere else—old shows from another network. Shows we have seen 10 years ago." That sentiment is echoed online, where little is posted about programming aside from interviewees promoting their appearances on the channel. Of these posts, one outlier exists. It's a tweet by a stand-up comedian from Toronto: "Fun fact: OMNI is a shitty TV channel in Canada," it reads.
OMNI's practices have even been questioned by its own media workers who have demanded a more stringent set of conditions regarding the licence. Jake Moore, president of the Unifor Local 79M, which represents OMNI journalists and media workers in Vancouver and Toronto, noted in a press release that the basic distribution licence should work toward delivering local news. Howard Law, Unifor's media director, also pointed out that Rogers Media shouldn't be handed a blank cheque if it doesn't retain the licence.
Nigel Barriffe, president of the Urban Alliance on Race Relations and part of the coalition that has raised concerns about Rogers Media's skewed practices, says the "CRTC had given the licence to Rogers without holding them accountable. It has everything to do with money… They aren't struggling with funding. This isn't about helping them survive. They bid enough to be able to do this. It is the right thing to do."
Laith Marouf, policy consultant at the Community Media Advocacy Center (CMAC), claims Rogers also tried to back out of producing more original content in-house at OMNI Quebec—an issue at the heart of the concerns raised against the corporation. "After agreeing to air 14 hours per week of original content from Quebec as part of their licensing conditions to obtain the 9(1)(h) licence, OMNI applied to modify the condition to 14 hours per month, claiming they had made a clerical error during their licence renewal hearing," he says. "The CRTC rejected their claims and request for condition modifications." (Marouf is also a project consultant at Independent Community Television [ICTV], an applicant that is competing against Rogers Media for the 9(1)(h) licence. It also isn't the first time ICTV has raised issues with CRTC licensing: the company filed a complaint in 2015 against Vidéotron's community channel in Montreal due to noncompliance with regulatory requirements of the CRTC; the CRTC ruled in favour of ICTV's complaint.)
"We initiated the request to amend the licence in an effort to clear up confusion around the condition of licence for the independent ethnic service ICI," Colette Watson, senior vice president of television and broadcast operations at Rogers Media, told This in response to the allegations. "While 14 hours weekly is the commitment we made as part of OMNI Regional licence, the intent was not to create onerous licence requirements for this small broadcaster. OMNI Quebec has met its weekly commitment of 14 hours per week and that is what we continue to deliver." Rogers points to collaborations with regional broadcasters, such as ICI Montreal and Fairchild TV, to produce the content, and will make original content a priority should the licence be renewed. Critics, however, say this is an unfair practice that violates the terms of the CRTC's 9(1)(h) agreement.
The CRTC wasn't completely convinced by Rogers' arguments, instead initiating a call for new applications for the licence and restricting Rogers' licence until 2020. A recent Globe and Mail report, featuring an extensive interview with Watson, failed to mention why the CRTC decided not to renew Rogers' licence. Meanwhile, the corporation had grown its profits by more than one-third to $425 million as reported at the end of its first quarter in 2018.
When it comes to promoting inclusivity and diversity in programming—the chief concern for critics of the Rogers licence—some say there's plenty of work to do internally to improve matters. According to one former OMNI employee, who has asked to remain anonymous to protect their identity, "no one from the ethnic community is part of the executive team at OMNI. They do have an advisory council that suggests ideas, but it doesn't make any decisions." Watson denies this. "The reality is quite the opposite and we're extremely proud of the diversity we have on the OMNI team, both in front of and behind the camera," she tells This, citing multiple employees; those mentioned in her response, however, are part of the editorial leadership team, and not from the executive board.
Rogers Media has since made some controversial decisions for OMNI, closing local stations in Vancouver and laying off a large number of journalists across the country. The CRTC took notice of these shutdowns, both by Rogers and other networks, and has enforced a policy requiring a 120-day notice before closing a TV station. Local community media is, after all, essential to the prosperity of millions of Canadians outside of urban areas—and such cost-cutting measures only hurt them.
***
The others
Here's a closer look at who else is vying for the 9(1)(h) licence:
BELL MEDIA: The media conglomerate is looking to launch OurTV, broadcasting in 20 languages and offering six daily, national hour-long newscasts in six distinct third languages.
TELELATINO NETWORK INC., IN PARTNERSHIP WITH ASIAN TELEVISION NETWORK INTERNATIONAL LIMITED: Together, the network would be called CanadaWorldTV. If selected, they plan to continue broadcasting OMNI Regional newscasts in Italian, Punjabi, Mandarin, and Cantonese, and produce additional programming for 20 language groups and ethnic communities.
ETHNIC CHANNELS GROUP LIMITED: This Toronto-based broadcast company is vying to launch Voices to serve 25 ethnic groups per month in 25 languages by its fourth year of broadcast.
MTEC CONSULTANTS LIMITED: Operating as Corriere Canadese ("The Canadian Courier"), this Italian-Canadian newspaper presided over by former MP Joe Volpe aims to launch CorrCan Media Group to broadcast daily, national 30-minute newscasts in Italian, Mandarin, Cantonese, and Punjabi.
AMBER BROADCASTING INC.: The company is applying to broadcast Amber News Network, offering programming in 25 languages including Mandarin, Punjabi, Tagalog, Arabic, Hindi, and Cantonese.
INDEPENDENT COMMUNITY
TELEVISION MONTREAL: The network is hoping to launch TELE1 and TELE2, proposing to serve up to 45 ethnic groups across the country. It is the only applicant proposing Indigenous-language programming.
MULTICULTURAL DESCRIBED
VIDEO GUIDE: The company proposes an audio service in 23 distinct languages, offering the visually impaired information on upcoming shows available in described video.
The 9(1)(h) licence Rogers Media now holds will be up for grabs in 2020, and though OMNI is still in the running, there are seven other media networks—large and small—also vying for it. Bell Media, Ethnic Channels Group Limited, Telelatino Network Inc. and Asian Television Network International Limited, Amber Broadcasting Inc., Independent Community Television Montreal, Corriere Canadese, and Multicultural Described Video Guide—all major players in the third-language media industry—hope to get their hands on the licence.
Some applicants provide an option that's similar to what already exists. Bell Media, a large corporation in direct competition with Rogers, has requested that they be allowed to contract productions of national interest to independent production companies rather than producing them in-house. But others show promise for change that would be welcome by unhappy viewers: According to the CRTC's instructions the broadcasters are supposed to produce content in at least four languages—Italian, Punjabi, Mandarin, and Cantonese. ICTV's TELE1 and TELE2 plan is the most ambitious, with 45 languages as part of its broadcast. ICTV is also the only applicant that has proposed content in Indigenous languages.
Meanwhile, Rogers Media has started a robust public relations campaign on Twitter with the hashtag #supportOMNITV and a website to gather support letters. The public support is critical for Rogers Media to save its licence at the hearing, slated for November 26. "We have mandatory carriage on the basic service of all television distributors, which has allowed us to provide programming to over 40 different ethnic groups in over 40 different languages, and to continue offering our third-language newscasts in Italian, Mandarin, Cantonese, and Punjabi," the Support OMNI website reads. "Now, we are at risk of losing this mandatory distribution which will mean closure of the service." The website does not state why CRTC is reconsidering OMNI's licence or why it could lose it.
"We believe OMNI Regional is the clear choice for Canadians and we look forward to demonstrating that to all stakeholders in November at the public hearing," Watson says of Rogers' strategy moving forward. "We received close to 5,000 letters of support for the renewal of our service— far exceeding the support received for other applications." This could not independently verify these claims.
***
According to data from consumer marketing company Statista on BDU subscribers across Canada, the households receiving basic distribution through various services such as Dish or IPTV declined to 76.2 percent in 2016, down from 83 percent in 2009. Still, the reach is great, and allows diverse communities to consume programming that speaks to their realities.
In times when the local and community news media industry is facing extreme challenges, this CRTC licence could strengthen civil society institutions in Canada. As Harpreet notes, from a viewer's perspective, multicultural media in this country "should [uphold] Canadian cultural values. The network should be sensitive about translating and transmitting the cultural and social issues of the ethnic community into broader Canadian society."
When mainstream English- and French-Canadian media are facing its biggest challenge in decades, OMNI's case highlights a different story: a certain brand of multicultural media is thriving in Canada thanks to taxpayers' money. But what does creating silos of media representation do to media produced in languages other than English or French? The mundane affair of a broadcasting licence might appear to be prosaic, but perhaps one overused quote by a famous Canadian might help us understand the gravity of the situation: "The medium is the message."
---
Check back for updates on the story after the CRTC decision this November.
Aadil Brar is an international freelance journalist. His writing has appeared in publications such as the the Diplomat, Devex, and others. He is also an National Geographic Society Young Explorer Fellow. Aside from writing about Canadian media, Aadil is busy chasing stories of diplomatic intrigue in the Asia-Pacific region. He holds an undergraduate degree in anthropology from the University of British Columbia and now lives in Toronto. His work can be found on aadilbrar.com.