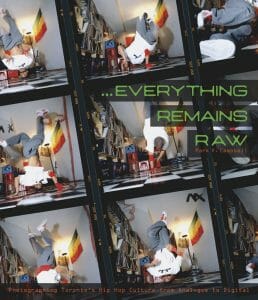 …Everything Remains Raw: Photographing Toronto's hip hop culture from analogue to digital
By Mark V. Campbell
Goose Lane Editions, $35.00
Mark V. Campbell's …Everything Remains Raw is an in-depth look at Toronto's burgeoning hip-hop scene from the 1980s until present day. It also explores how the city helped mold hip-hop culture. The book is a collection of photos, zines, interviews, and art created during a time in Toronto when hip-hop culture was new. The book is an effort to keep the representation of hip-hop genuinely "raw," Campbell says. Archival photographs, images of graffiti, and nostalgia about venues are all part of the conversation.
Campbell offers sharp observations about the deep influence that photojournalists and hip-hop artists have made, while also exploring the politics and changing dynamics of the hip-hop experience. The book encourages readers to contemplate the deep connection members of the hip-hop community felt to the music and one another during important moments in the Toronto hip-hop scene.
Readers will be forced to consider institutionalized Western art and the implications that come with leaving out marginalized communities. For example, artwork that is normally seen as nationalistic often deeply contrasts with the reality of what was happening in the country's physical geography at the time. …Everything Remains Raw encourages readers to ponder and broaden our vision of what we consider to be Canadian art and culture. In the way that The Group of Seven celebrated Canada's land, hip-hop creators used their words and art to do the same to Toronto.