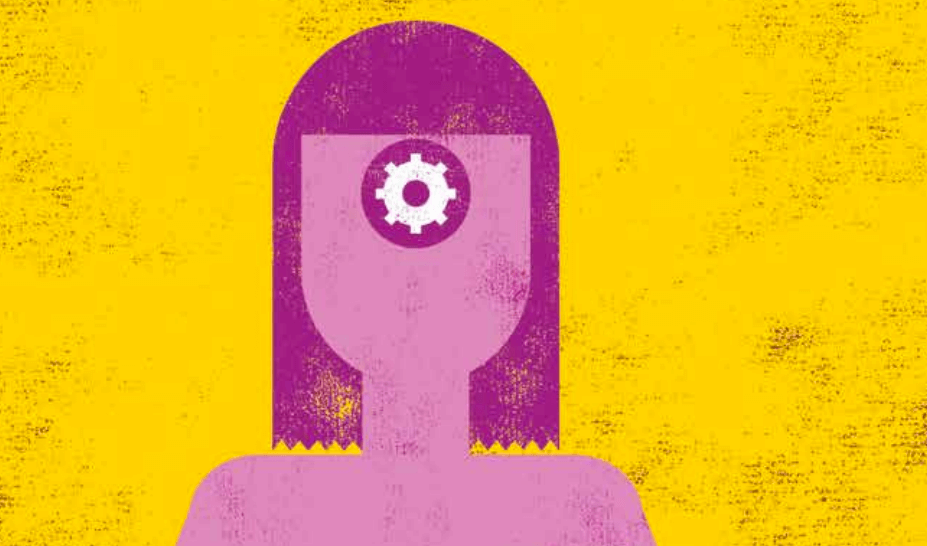 Illustration by Matt Daley
"Open or closed?"
"Closed, please."
I click the wooden door shut. I walk past the poster-lined office, climb the stairs out of the building, and emerge onto the sunny Ryerson University campus in downtown Toronto. I trudge to the subway, shuffling onto a northbound train just as the door closes. I drop into a seat. I stare ahead. No more Gaby.
For two years, I saved and planned for a Masters of Journalism degree at Ryerson, and in September 2014 I arrived in Toronto ready to learn. Instead, I spent the first year of my degree turning away a growing pile of assignments, avoiding friends, family, and colleagues, and staying up all night with my heart pounding. My desk felt like the scariest place in the world, followed closely by my inbox full of unread emails. To escape those places, I spent days at a time watching entire seasons of Friends and Scrubs. Then one night in the spring of 2015, after seven episodes and a full bag of chips, the voice I was running from posed an interesting question: What's the point of you anyway?
After that, I walked around in a trance, afraid to come in contact with anything that might confirm the implication behind the question. If someone mentioned an assignment they completed, a scholarship they received, or a job lead they found, the critic would smirk at me: I told you so.
In the summer of 2015, Gaby came into my life. Gaby, whose name has been changed to protect her privacy, was a student psychologist at Ryerson's counselling centre. In her office, every Thursday at 8:45 a.m. for almost two months, we dove into parts of my life I'd forgotten—perhaps deliberately— to explain my constant state of fear and anxiety. I arrived expecting to talk about my issues with work and deadlines. Instead, Gaby had me name the person inside my head who constantly told me I wasn't good, smart, or diligent enough to do anything worthwhile.
The sessions left me feeling raw. I found myself bursting into tears on the streetcar or while walking down a busy sidewalk. Still, I felt like I was slowly getting better, the way some people say a nasty cough needs to get worse before it can clear out.
But one Thursday in August 2015, weeks prior to that final visit, Gaby tells me her placement is almost over. She urges me to consider group therapy beginning the following January—four months away. In the meantime, she says, I could consider external resources. When I get home that day, I find an email from Gaby with a document attached, titled "Low-cost therapy." It lists 10 different centres and community groups in the greater Toronto area. I snap my laptop shut.
Later, I try looking through the list again. Did any of the options provide emotion-focused therapy like Gaby? Would I have to start fresh with the new counsellor? Would there be a waiting list? With the cheapest options at $20 to $40 per session, could I even afford therapy? Overwhelmed, I snap my laptop shut again. Was this how it was going to be when I finished my degree?
University counselling centres in Canada are overwhelmed and overbooked. But for the lucky students like me who are able to snag a few sessions, the experience is often bittersweet. Counsellors form bonds with students, peeling open wounds from their past, beginning the work of repair. But after graduation, the relationship ends, sometimes abruptly.
When given a list of external options, some feel like they don't know where to start. A graduate experiencing anxiety or depression can find it difficult to take the initiative for their own well-being. Faced with researching the right clinic, wait times, weekly payments, and the prospect of rehashing old stories all over again, some graduates fall through the gaps. Tasks, such as finding a new job or apartment, might take precedence over finding a new therapist—even if, in reality, the latter might help with the stress of the former.
Meanwhile, university counselling centres won't do any handholding in the transition process unless they deem the situation severe. Most counsellors only track a student's move through a casual phone or email follow-up. But as the variety of services and their different pay models increase, so too does the confusion over how to access them. Canadian youth, often in no shape to wade through the mess alone, need help getting help—and that's just not happening.
***
Almost two months after Gaby broke the news to me that she'd be leaving, I find myself sitting in a new office at Ryerson's counselling centre.
"Have you been able to call one of anyone on the list like we agreed?" the woman across from me asks.
"No." I tuck my hands under my legs on the beige armchair and examine the grey-brown pattern of the carpet. I'm still too afraid to pick up the phone and find a new counsellor. After weeks of back and forth with the centre, they decide to give me a few more sessions with a social worker. It's our second session and I already don't like Shelley (whose name has also been changed). Shelley always believes me when I say I'm fine.
I'm not alone in struggling with a new counsellor. In the spring of 2013, Cassidy Allison didn't want to see her friends or go to her media production classes. Even though she normally loved being outside, she was spending more time locked indoors. After a difficult first year at Ryerson, living away from her hometown of Prince Edward County, Ont., she found out it would be different when she returned. Out of what seemed like nowhere, her parents were getting a divorce.
Allison recognized her feelings as symptoms of depression and went to see a series of counsellors offered through her father's workplace, but they somehow made her feel worse. Her counsellor often told her that the problems she was facing—a broken family, difficulty at school—would all pass. All Allison heard was that her feelings weren't valid.
After a day on campus where Allison couldn't bring herself to go to class, she visited the university's counselling centre and asked to see someone.
Was she going to harm herself or anyone else? the woman at the front desk asked. When Allison said no, the woman told her it would be a two-week wait before she could see someone. Two more weeks of this? Allison burst into tears. The woman offered her an earlier spot.
---
It would have been much easier for me to get a prescription than get transferred to a service that worked for my needs
---
Soon, Allison saw a counsellor every week—and it was actually working. Allison felt like she could email her any time, they had regular appointments, and the counsellor always followed up with resources discussed during session. Most importantly for Allison, the relationship was consistent. Soon, she enjoyed sharing her accomplishments with her counsellor, like when she got a summer job or produced a short film about her depression. By third year, she was feeling better and scaled back the sessions. By fourth year, she only saw the counsellor a few times when things got stressful.
But in January 2016, something changed. Allison was preparing to graduate, but had no job lined up and no place to stay in Toronto. She fell into a familiar pattern: getting migraines, not wanting to go out. She emailed her counsellor for the first time in months. This time, the counsellor was too busy. Instead, she recommended a therapist outside the university at a private clinic offering low-cost services. That person was busy, too. Eventually, she found a third counsellor at the same clinic. The Ryerson centre even transferred her records to the new therapist. But something still wasn't right.
"I had spent so much time with the counsellor at Ryerson. She already knew my entire history and I felt like I was starting over," Allison recalls. "I was there because I was stressed about my future but they asked about the counselling at Ryerson and so I felt like I was dredging up old things I thought I had already worked through."
She only saw the counsellor a few more times. What made things even more difficult, Allison said, was the payment. Since services outside the university are not covered by provincial health care, those who are uninsured at work or by a parent or spouse must pay fees that range from $20 to more than $180 per session.
"It felt disingenuous to walk into an office, hand someone $60, and then sit down and talk for an hour," Allison says.
She hasn't seen a counsellor since.
Meanwhile, a slightly different story was unfolding at the University of Manitoba in Winnipeg. Katy MacKinnon experienced post-traumatic stress disorder (PTSD) symptoms since high school.
MacKinnon, who uses the pronoun they, began seeing a clinical psychologist at the university's student counselling centre when their symptoms got so bad that even taking the bus was hard. Much like Allison and me, MacKinnon had trouble handing in assignments on time and being out in public. The psychologist was a great fit: she was kind, experienced, empathetic, and had the scientific background MacKinnon felt they needed.
As graduation approached, MacKinnon became absorbed in the next steps of their life and stopped making appointments with the psychologist, thinking they didn't need any more help. Months later, when the symptoms started to return, MacKinnon scrambled to put their name on free counselling lists across Winnipeg. All had months-long waiting lists. "When you're suicidal, it's hard to imagine the next day of your life, let alone counselling you might be able to access eight months down the road," MacKinnon says.
Desperate, MacKinnon emailed their U of M psychologist asking for a recommendation, but heard nothing back.
According to data collected by Statistics Canada in 2012, it would have been much easier for MacKinnon, Allison, or me to get a prescription than get transferred to a service that worked for our needs. It was the first time Statistics Canada distinguished between different types of mental health needs, such as medication, counselling, or more information about services available.
What researchers found likely resonates with many mental health patients: the most commonly reported need was counselling, including case management and therapy services such as talk therapy or cognitive behavioural therapy. Yet, the same study found that counselling was also the least likely need to be met, with only about 65 percent of those surveyed accessing it in any form.
Meanwhile, medication was easy to access, with 91 percent reporting that they received prescriptions they needed. And people with disorders like anxiety or depression—the most common among students and those transitioning into adulthood—were among the most likely to have their needs only partially met.
Despite this, therapy delivered in private practices by psychologists, psychotherapists, or social workers is not covered by provincial health insurance, putting those without jobs—especially recent grads—at an automatic disadvantage.
***
When a student walks into any postsecondary counselling centre across the country, they can expect a similar procedure. First, depending on the capacity of the centre, they might encounter a waiting period—anywhere from days to weeks. They'll book an intake appointment, where they'll meet with a counsellor to determine what kind of support they need. The centre will then assign the student to a therapist or case manager. (A case manager acts as a check-in point while the student tries out alternatives other than oneon-one counselling, such as group therapy, open workshops, or in some cases online services.)
On either route, a number of factors—clinical and financial—determine how often and how long a student sees their therapist or case manager. For example, the University of Waterloo, like many post-secondary centres, tends to offer bi-weekly sessions; often, a student needs extra time to process what was discussed during their session.
Still, there are times when weekly support is vital. "We do offer weekly sessions if it is a period of acute distress," says Dr. Tom Ruttan, the psychologist director of counselling services at the University of Waterloo. "There are times when I've seen a student three times in the same week." In these situations, Ruttan says the staff will fit the student in on their lunch break or during hours reserved for admin work. "Whatever we need to do make sure they're safe," he says.
Ruttan says most students only end up needing three or four sessions—other centres report similar numbers, though some dip as low as two—because they were able to develop a short-term solution with their counsellor, they were able to find faith-based or family support, or the services just didn't suit their needs.
Some, however, need more than that. These are usually the more complex cases—those showing signs of PTSD or feeling chronically suicidal, for example. Those students see a therapist for a few more weeks until they hit their annual limit of 10, a number that many centres have adopted with some flexibility.
For students who are approaching that 10th session, Ruttan says the key is planning ahead. As the sessions come to a close counsellors will often set up short-term goals for the student in the remaining sessions. Ultimately, it comes down to one question: What needs to happen for the student to know that she is feeling better? The counsellor and student then put together a plan, in some cases spacing out the sessions so the student has more time feeling supported.
It's a similar approach for those graduating. But Ruttan says the stress and fear surrounding graduation, finding a place to live, and finding a job or stable income can be so strong that it not only compounds and exacerbates existing issues, but it stops work on them entirely. Ruttan says he will sometimes put everything on hold in the sessions just to work on the anxiety of looming independence.
Losing the singular form of support—a counsellor—during that time can amplify the anxiety in struggling students even more. And amid that kind of anxiety, students may need more support after graduation. Ruttan says he and his team try to set a smooth transition—even if he needs to see a student a few more times.
But there is no blanket policy, Ruttan explains; Waterloo and other universities approach transition in different ways. Counsellors might recommend other centres in the area that meet a student's needs and encourage them to call them. Ruttan says he sometimes calls the centres himself, or goes to the first session with the student. "We feel that if it's in [their] best interest to take that first step then we're going to encourage that. It becomes a clinical decision as opposed to a policy procedure," he says.
For some, those external resources are out of reach. Both Ruttan and Debbie Bruckner, senior director of student wellness at the University of Calgary, say income bars many students from finding help outside of universities, even with sliding scale rates. If they can afford these services, long waiting lists often plague cheaper agencies.
Counsellors say it helps that attitudes toward mental health care on campus have improved, and students are freer to discuss their mental health with instructors.
Many post-secondary counselling centres also work with mental health organizations in the community, creating links with external services and connecting with other postsecondary centres to adopt similar policies and treatments. This way, students receive uniform treatment regardless of where they receive it.
But Rosie Smythe, the director at the Centre for Innovation in Campus Mental Health, a branch of the Canadian Mental Health Association, says work still needs to be done to link services together, filling potential gaps that students might fall through in search of the right support. Her organization runs initiatives across Ontario campuses and takes successful projects to the province for funding that can be used to apply the initiatives elsewhere.
Even still, much of the emphasis on transition is placed on those moving from high school to college and university, as opposed to out of postsecondary.
***
Despite the growing awareness of mental health challenges on campus, why do graduates like me end up without support?
Many counselling centres don't keep records of which students have transitioned successfully. In some cases, unless a student reaches out after a failed experience, they may never know how they've fared.
Accessibility also remains a major barrier. The terminology used to describe services can easily confuse those seeking support. The list I received used a number of terms—"counselling," "psychotherapy," "psychoanalysis," and "recovery programs"—that the average student likely couldn't differentiate them. A Google search is even more overwhelming, bringing up thousands of results including ads and lists of therapists whose bios are difficult to distinguish from one another.
And while a family doctor might seem like the perfect point of contact for that kind of navigation—the way they can refer patients to a cardiologist or nutritionist—even they struggle with access.
A December 2016 article in the Toronto Star told the story of 15-year-old Alex who took his own life after a series of unsuccessful visits to his family doctor trying to get a referral to a mental health practitioner. The story reports that many doctors don't know who to refer patients to, or what type of care those patients need—revealing yet another gap in help for young adults.
***
I don't know if I will ever seek counselling again. In 2017, the ding of an email doesn't send me hiding. The critic is still there, but she sits on the couch and trusts me to do what I need to. Yet, I still think about the unfinished conversations I had with Gaby, and I wonder what might have happened had I moved on to see someone in the community right away.
Allison has also put a hold on future counselling, busying herself with work. And, after three years of searching and a stint with a free, short-term community clinic, MacKinnon finally has extended health coverage that allows them to see a psychologist they enjoy working with. "I am not sure where I'd be without it," McKinnon says. "I'm still not earning enough to pay for services out of pocket."
The three of us had different experiences with our counsellors and transition processes, but we all sought consistency—something our university counselling centres still can't promise us.
Because, as MacKinnon says, "Mental illnesses don't just go away because one has stopped receiving care."
Carine Abouseif is freelance writer by day and a full-time editor by night. She's also the Q&A writer at This. Carine recently graduated from the Ryerson Masters of Journalism program. Since then, she's been writing about mental health and immigration.