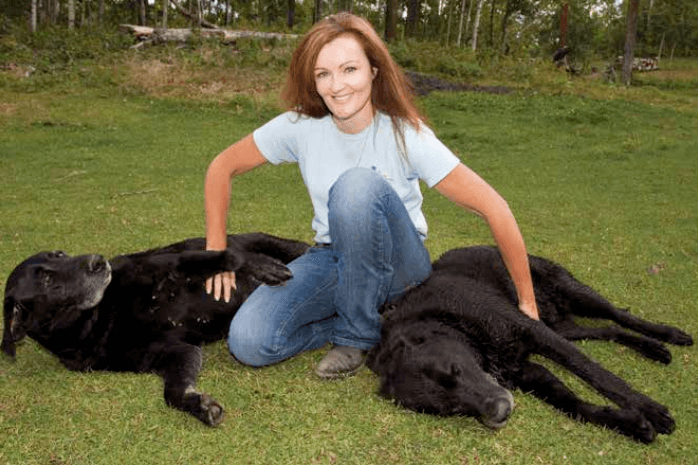 Photo by Stephanie Willis, Falling Leaves Photography
Thirty minutes due east of Edmonton, where the traffic signals turn from streetlights to stop signs, is the town of Ardrossan. Here, you'll find the Dreamcatcher Nature-Assisted Therapy Association, perched on 40 acres of lush, tree-lined, and trailed land.
Founded in 2003 by psychologist Eileen Bona, Dreamcatcher has become a haven for individuals struggling with a vast range of obstacles—from mood disorders to behavioural and developmental challenges—as well as abandoned and abused animals. With an emphasis on animalassisted therapy, the centre's practice is based largely on the biophilia hypothesis, an idea first introduced by biologist and conservationist Edward O. Wilson. "[The theory] states that because humans evolved through nature and used to live as one with animals our brains are genetically attuned to be at one with nature and animals," says Bona. "They calm us."
Getting her start in Grand Prairie, Alta., Bona's early clients included children suffering from severe brain damage, often due to fetal alcohol spectrum disorders and accidents. "At the time, I wasn't thinking about animals at all," she says. Instead, she was considering her patients' motivations and how she could encourage them to communicate differently through their innate interests— a technique influenced by Bona's own childhood, growing up with a brother who had a severe disability. The shift to animal-assisted therapy seemed to happen serendipitously when Bona's fiancé, now husband, suggested they move to the countryside. At the time, she was largely unaware of animal-assisted therapy, but Bona had always dreamed of owning a horse and farm, and imagined if a patient was motivated enough to interact with and care for an animal, perhaps the animal could in turn strengthen the individual's communicative skills. After some thorough research, she decided to launch Dreamcatcher, a program that paired clients with animal companions.
One of Bona's greatest success stories is a young woman with fetal alcohol spectrum disorder, ADHD, and oppositional defiance disorder, who came to Dreamcatcher at the age of 15, after multiple failed attempts in other therapy programs. "She was living in a residential centre and getting into unimaginable trouble," says Bona. Around that time, Dreamcatcher had been donated a skittish miniature horse that was terrified of people, and the teen offered to help. For the next six months, the girl came and sat in the pasture, in -30 C weather, and waited for the horse with cookies. Once it began to trust her, the teen expressed to Bona that she couldn't believe he had allowed her to help him.
"I said, 'I know how you feel,'" says Bona. "'I wish you would let me help you.'" Following that encounter, the girl agreed to do six months of talk therapy sessions.
Despite the many successes that Bona has witnessed, criticism surrounding the effectiveness of animal-assisted therapy still remains, as do ethical challenges regarding the use of animals.
"I always worry about the animal, and how it's feeling," Bona says. "Is it still happy doing this kind of work? And when people are healing, and they're in the process of working with animals, what expense is that to the animal?" Others have criticized the lack of research available on this field of therapy, and the relative difficulty that comes with proving its long-term effectiveness.
While limited, the literature that does exist is promising. A 2009 study from Loyola University found that adults who received canine therapy while recovering from total joint-replacement surgery required 50 percent less pain medication. Another study, published in the Western Journal of Nursing Research, noted a significant increase in pro-social behaviour when 12 autistic children were introduced to dogs.
Bona remains confident in animal-assisted therapy's ability to change lives and expand in practice. In fact, she is the designer of Western Canada's first college-accredited course in animal-assisted therapy, and is currently helping to develop standards and certification for therapists across Canada. For her, the practice's ability to make significant change is based on simple logic.
"The animal doesn't judge people, it offers unconditional acceptance," says Bona. "[And throughout most of these peoples' lives], no one else has given them that message."