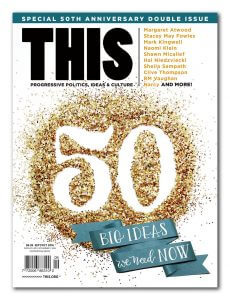 For our special 50th anniversary issue, Canada's brightest, boldest, and most rebellious thinkers, doers, and creators share their best big ideas. Through ideas macro and micro, radical and everyday, we present 50 essays, think pieces, and calls to action. Picture: plans for sustainable food systems, radical legislation, revolutionary health care, a greener planet, Indigenous self-government, vibrant cities, safe spaces, peaceful collaboration, and more—we encouraged our writers to dream big, to hope, and to courageously share their ideas and wish lists for our collective better future. Here's to another 50 years!
---
The images of Prime Minister Trudeau shaking hands and taking selfies at the Jarry Metro station in his Papineau riding the morning after his federal election victory were striking. Choosing a public transit station for his first high-profile media event in a country deeply immersed in rural and wilderness ideology, where mentions of cities or being seen as too urban has been a liability, was a strong statement that our political landscape has shifted. Millions of Canadians who live in urban environments could relate to those images and their way of life was suddenly part of the national conversation. As it should be: eight out of 10 of us live in and around cities.
Things changed quickly after the election. In the run-up to Trudeau's first budget there were signals of major change in federal-municipal relations. When the budget was unveiled in March, it called for billions for "unsexy" new spending for Aboriginal communities, middle-class families, transit upgrades, and social housing. "This is truly a cities budget and I'm encouraged by the investments being made in Toronto from transit to social housing, green infrastructure to heritage and culture," said Toronto Mayor John Tory. Though the budget didn't deliver an explicit change in the funding formula for cities, there was and is a buzz in municipal circles: perhaps this was finally the start of a coherent national cities policy renewal.
Canadian urban policy is certainly germinating. We must now continue to demonstrate to each other that we are an urban nation—80 percent strong—with cities that have tremendous value and are often the envy of the world. This often conflicts with the idea we Canadians have of ourselves. Even the 80 percent figure incites controversy—critics will point out that the number largely encapsulates suburban dwellers rather than truly urban. The suburban landscape, in the varied ways that it's defined, is as common a Canadian condition as farm life was a century ago, but it's more similar to an truly urban condition than not. Focusing on shared values rather than differences could encourage cohesion between the two. So far we've had people trying to divide these nearby camps; Toronto's Rob Ford is evidence of what happens when we focus on differences rather than what could unite us.
Just as there have been nation-building projects in Canada, the country needs an overt urban nation-building project, bundling the suburbs and downtowns together. The architecture, history, built form, economies, culture, and feel of Canadian cities needs to be explored, celebrated, critiqued, and reflected back to Canadians in order for the policy discussions to stick, for it to relate, for people to understand it matters. Policy needs to be connected geographically, along the city streets of this country. This need not be in opposition to rural life or traditional economies, but bringing the new Canadian reality into Canada's idea of itself. Perhaps if we all started to identify as urbanites, some of Canada's self-sabotaging regionalism might disappear: we're all in this together, and struggling for the same way of good life.
This country and its disparate, far-flung geography is an invention of the railway, telecommunication connection, and a 150-year nation-building project. It's time to make our great cities part of that ongoing story, and part of that project.
Illustration by Matthew Daley
Shawn Micallef is an editor and co-owner of Spacing Magazine, author, Toronto Star columnist, and instructor of courses on Canadian cities at University of Toronto.