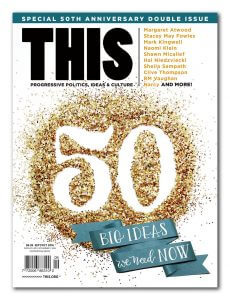 For our special 50th anniversary issue, Canada's brightest, boldest, and most rebellious thinkers, doers, and creators share their best big ideas. Through ideas macro and micro, radical and everyday, we present 50 essays, think pieces, and calls to action. Picture: plans for sustainable food systems, radical legislation, revolutionary health care, a greener planet, Indigenous self-government, vibrant cities, safe spaces, peaceful collaboration, and more—we encouraged our writers to dream big, to hope, and to courageously share their ideas and wish lists for our collective better future. Here's to another 50 years!
---
"Will we actually get to see this movie?" That was the question posed by a fellow performer in an upcoming, modestly budgeted Canadian feature that filmed in Toronto earlier this summer. He'd asked me this because he'd heard that I was, one, a film critic and, two, the only person in the cast who had ever heard of our director before the first day of shooting. I responded that the filmmaker had some success showing his work on the international circuit and I thought there was a decent chance an audience in Berlin or Rotterdam might see the finished product before us. "Okay," he said, "but will anybody ever pay to see this movie?"
In the course on Toronto cinema that I teach at Innis College, I tell my students that the history of filmmaking in Canada's largest city is a short one, and also that many of the key works on the syllabus—from Don Owen's Nobody Waved Goodbye (1964) and Don Shebib's Goin' Down the Road (1970) to Patricia Rozema's I've Heard the Mermaids Singing (1987)—were initially acclaimed abroad. The fact is that New York and Cannes have often been the major proving grounds for our homegrown productions, which makes sense insofar as they're epicentres of international film culture. What's been more difficult to explain is why the 1980s were the last time an entire cohort of English-Canadian directors broke through at roughly the same time and the same level.
Rozema and the other notables of the so-called "Toronto New Wave" (Atom Egoyan, Bruce McDonald, Don McKellar, Ron Mann, and, a little bit later, Clement Virgo) have all, to varying degrees, endured both in the industry and in Canada's film-culture consciousness—most recently as villains in the media narrative spun by director-turned-rabble-rouser Matt Johnson, whose outside-the-system success with guerilla comedies like Operation Avalanche has emboldened him to publicly skewer a supposedly moribund old guard and the funding bodies propping them up, Weekend at Bernie's style.
The 30-something Johnson is also the most visible member of what might be considered a "New New Wave" and yet his manic humour is not indicative of the aesthetic program favoured by this cycle of directors. A more representative candidate might be Kazik Radwanski, whose bleakly funny 2012 feature Tower is geared towards empathetic, hardscrabble realism; or Igor Drljaca, whose film The Waiting Room evokes Atom Egoyan's early, funny (and ethnically specific) comedies of urban alienation; or the gifted Chinese-Canadian doc-fantasist Luo Li; or Andrew Cividino, director of the surprisingly successful Thunder Bay coming-of-age fable Sleeping Giant, which played Cannes, then TIFF, and then in theatres long enough that it actually made some money.
These films have been critically acclaimed and this old-style hard sell feels like the right tactic in a national film-industrial moment where none of the players—not young directors, not independent distributors, not cash-strapped exhibitors, not even the Egoyans and the Rozemas—have it terribly easy. It's one thing to hope that the situation will change, and quite another to do something about it. The directors of the New New Wave have done their part by making movies worthy of attention, scrutiny, and admiration. Our collective mandate should be to give it to them, lest it seem like we're once again behind the global curve on acknowledging our best and brightest.
Photo courtesy of Goin' Down the Road/TIFF
Adam Nayman is a critic and author in Toronto. He writes for the Vice Guide to Film and his book It Doesn't Suck: Showgirls is available from ECW Press.