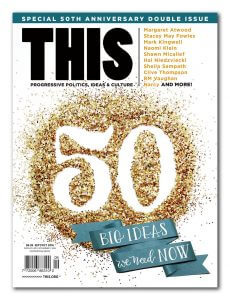 For our special 50th anniversary issue, Canada's brightest, boldest, and most rebellious thinkers, doers, and creators share their best big ideas. Through ideas macro and micro, radical and everyday, we present 50 essays, think pieces, and calls to action. Picture: plans for sustainable food systems, radical legislation, revolutionary health care, a greener planet, Indigenous self-government, vibrant cities, safe spaces, peaceful collaboration, and more—we encouraged our writers to dream big, to hope, and to courageously share their ideas and wish lists for our collective better future. Here's to another 50 years!
---
We Ukrainian-Canadians landed east of Edmonton in 1892 and have never stopped extolling the wisdom of our forebears in choosing to settle on "free lands" in an apparent "wilderness" on which railway track had been fortuitously laid for our benefit. Years of the familiar litany of perseverance, fortitude, and sacrifice followed, and, hey, presto! rolling fields of wheat and canola on farms so big they look like the kolkhozes of Soviet yesteryear. In the cities, we have other fruits of great-great-grandbaba's resilience: our Ph.D.s and QCs, our SUVs and time-shares, our cabinet ministers and comedians on CBC TV.
We visit the ancestral graves in rural church yards: headstones written in Cyrillic we no longer know how to read. We vote for politicians with Ukrainian last names who send us Easter and Christmas greetings in our community newspapers in Cyrillic—that they can't read either. We send our kids to Ukrainian dance school (great costumes) because we are so damn colourful. We eat perogies and send money to orphans in Ukraine (there are a lot of them) and wear Remembrance Day poppies because, you know, we're proud Canadians.
Ever since we Ukrainian-Canadians climbed up from bohunk status to poster kids of multiculturalism in the 1970s, we have scarcely changed our tune.
Just watch the Ukrainian Cultural Heritage Museum's promotional video. In it are horse-drawn wagons, onion-domed churches, a grain elevator, a young woman in a babushka weeding her garden. The amiable narrator in a woolen flat cap tells us that a visit here is "a way for Albertans to learn about their past." This is substantial hogwash.
The implication is that, prior to the prodigious investment of our labour, the land had been useless, unproductive, and uninhabited. Albertans learn nothing of the fact we took homestead title on land ceded to the Crown by the Cree. They will learn nothing of the remarkable success of Ukrainian-Canadian socialists and Communists in organizing immigrants not on farms but in the packing plants, the mines, the extra gangs on the railways of western Canada.
Next year is the 125th anniversary of those first homesteads in now-legendary Edna-Star settlement east of Edmonton. It's an ideal opportunity to reboot the narrative, especially since, with the virtual erasure of socialist, suffragist, and anti-racist contributions to that story, the unsuspecting Albertan at the Heritage Village has no idea the "settler" identity is so complex. How a landless family in bare feet on an Edmonton station platform could also be unwitting squatters on Indigenous land. How we now struggle to remember great-grandbaba's stories of the "Indiany" who were hired on at harvest time, stories told once and never again. How nevertheless we would call this land mother and give thanks for it through our labour in the face of economic despair and dispossession. How some forebears skipped the homestead and worked as ditch-diggers in Edmonton, inspired by Wobblies from Montana to go out on strike. How the settlers' children became school teachers in the back of beyond, the necessary bridge between ancestral folk customs and more-British-than-thou patriotism.
I could go on. The alternative stories are legion, and I am learning some of them as I prowl through my own family's "archive," which includes that ditch-digger, those schoolteachers and even a great-uncle who was deported from Canada as a radical, went back to the ancestral village and later hanged himself. They offer us the wonderful opportunity to turn our attention to our stories not in nostalgia but in critique and re-imagination. The future has the potential to be a whole lot more interesting than our mythologized past.
Myrna Kostash is a nonfiction writer in Edmonton. Her latest books are Prodigal Daughter: A Journey to Byzantium (2010) and The Seven Oaks Reader (2016). She has read This since 1971.