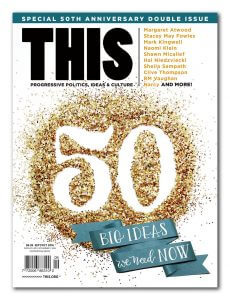 For our special 50th anniversary issue, Canada's brightest, boldest, and most rebellious thinkers, doers, and creators share their best big ideas. Through ideas macro and micro, radical and everyday, we present 50 essays, think pieces, and calls to action. Picture: plans for sustainable food systems, radical legislation, revolutionary health care, a greener planet, Indigenous self-government, vibrant cities, safe spaces, peaceful collaboration, and more—we encouraged our writers to dream big, to hope, and to courageously share their ideas and wish lists for our collective better future. Here's to another 50 years!
---
I knew I was in trouble when the other day I found myself bargaining with starfish. Red and purple ones are ubiquitous on the rocky coast of British Columbia where my parents live, where my son was born, and where I have spent about half of my adult life. They are always the biggest kid pleasers, because you can gently pick one up and give it a really good look. "This is the best day of my life!" my seven-year-old niece Miriam, visiting from Chicago, proclaimed after a long afternoon spent in the tide pools.
But in the fall of 2013, stories began to appear about a strange wasting disease that was causing starfish along the Pacific Coast to die by the tens of of thousands. Termed the "sea star wasting syndrome," multiple species were disintegrating alive, their vibrant bodies melting into distorted globs, with legs falling off and bodies caving in. Scientists were mystified.
As I read these stories, I caught myself praying for the invertebrates to hang on for just one more year—long enough for my son to be amazed by them. Then I doubted myself: maybe it's better if he never sees a starfish at all—certainly not like this…
When fear like that used to creep through my armour of climate change denial, I would do my utmost to stuff it away, change the channel, click past it. Now I try to feel it. It seems to me that I owe it to my son, just as we all owe it to ourselves and one another.
But what should we do with this fear that comes from living on a planet that is dying, made less alive every day? First, accept that it won't go away. That it is a fully rational response to the unbearable reality that we are living in a dying world, a world that a great many of us are helping to kill, by doing things like making tea and driving to the grocery story and yes, okay, having kids.
Next, use it. Fear is a survival response. Fear makes us run, it makes us leap, it can make us act superhuman. But we need somewhere to run to. Without that, the fear is only paralyzing. So the real trick, the only hope, really, is to allow the terror of an unlivable future to be balanced and soothed by the prospect of building something much better than many of us have previously dared to hope.
Yes, there are things we will lose, luxuries some of us will have to give up, whole industries that will disappear. And it's too late to stop climate change from coming; it is already here, and increasingly brutal disasters are headed our way no matter what we do. But it's not too late to avert the worst, and there is still time to change ourselves so that we are far less brutal to one another when those disasters strike. And that, it seems to me, is a worth a great deal.
Because the thing about a crisis this big, this all-encompassing, is that it changes everything. It changes what we can do, what we can hope for, what we can demand from ourselves and our leaders. It means there is a whole lot of stuff that we have been told is inevitable that simply cannot stand. And it means that a whole lot of stuff we have been told is impossible has to start happening right away.
Can we pull it off? All I know is that nothing is inevitable. Nothing except that climate change changes everything. And for a very brief time, the nature of that change is still up to us.
Illustration by Matthew Daley
Naomi Klein is an award-winning journalist, author of the international bestsellers No Logo and The Shock Doctrine, and a former This Magazine editor. This essay is an excerpt from her most recent bestseller This Changes Everything.