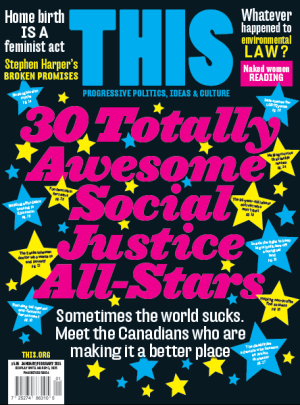 Come help us celebrate the launch of our first ever Social Justice All-Stars issue!
With this issue, we turn our focus to 30 totally awesome Canadians who are working to make the world a better place. From fighting for feminism, LGBTQ rights, and better mental health services to fighting against racism, discrimination, and harmful stereotypes, these social justice warriors lift our spirits and give us sunshiney hope for the future.
To help kick-off the issue, we're hosting "This is Not a Ted Talk". You'll hear from three of our social justice all-stars: Sheila Sampath, Farrah Khan, and Nayani Thiyagarajah. Each woman will tell you more about their social justice work and, we're sure, inspire you just like they inspired us!
WHERE: The Supermarket, 268 Augusta Avenue, Toronto, Ont.
WHEN: January 28, 2015. Doors open at 7:30 p.m., "This is Not a Ted Talk" speakers take the stage at 8 p.m.
COST: $5 at the door, which includes a copy of our Jan/Feb 2015 Social Justice All-Stars Issue