This week on Tuesday Tracks: new music by brand new bands, pretty new bands and new incarnations! That's what it's all about right? The new stuff. However, beyond their varied levels of respective newness, these bands don't share much else in common. Their sounds overlap to an extent, but in execution they're totally different.
Last year tragedy struck You Say Party! We Say Die! when their longtime band member Devon Clifford suddenly collapsed on stage and died. Out of respect for him they've dropped the last three words of their name and after an extended hiatus, they're back with a new video dedicated to their beloved band member.
The final product is a vivid, high-concept piece involving espionage, a weird, militarized police force, a high speed chase through a South Asian city and a final betrayal with a kiss. Here's "Lonely's Lunch":
Next up we have Wildlife. This is a band whose record I've been anticipating for some time. I was lucky enough to hear an early version months ago and have been waiting with bated breath ever since. They're one of those bands you listen to and you can't understand why the whole world isn't falling all over themselves to do the same thing.
Wildlife have an urgency in their music that few bands can muster. They might be playing small clubs and bars, but their songs are written to fill stadiums. They're enormous, honest and really, really good. Here's "Stand in the Water" from their debut album, Strike Hard, Young Diamond, out this Friday: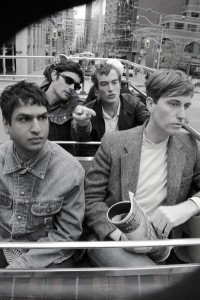 Finally there's The Holiday Crowd, a four piece from Toronto that, despite borrowing heavily from British aesthetics and 80's New Wave, come off as unique in a musical landscape that has all but abandoned jangly guitars, reverb and poetic lyrics. But while they might wear their influences on their sleeve, the songs themselves are current and charismatic. You can hear three songs, including "Painted Like a Forest," on The Holiday Crowd's Myspace page.