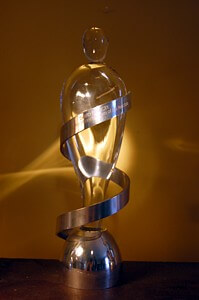 Michael Bublé might have walked out with the most hardware at last night's The Juno Awards, and his wins might have prompted more than a few eye rolls from the more progressive listeners in the audience, but awards ceremonies rarely get it right. They rarely reward bravery in artistic expression or experimentation and settle for the crowd pleasers, but that's ok, it's kind of what they're there for.
But the thing is, the Junos' didn't do so badly. There was plenty of praise left over for a whole heap of praise for some fringe Canadian talent. K'naan, for example, is this year's Artist of the Year based on his latest album Troubador; while East Coast troubador Joel Plaskett walked away with Adult Alternative Album of the Year. Not to mention wins for Metric, Drake, Deadmau5 and Bell Orchestre.
So, for this week's edition of Tuesday Tracks, please enjoy another helping of Juno glory. These three acts were each honoured with well deserved statues this weekend. Congratulations.
First, Charles Spearin's The Happiness Project took home the award for Contemporary Jazz Album of the Year. This album is a meditation on happiness as told through interviews with Spearin's neighbours. After the interviews Spearin wrote music to frame the tone, pace, inflection and cadence of their voices. Sometimes following note for note, sometimes, as in the song "Vittoria" below, the voice is used as punctuation to the melody.
Next, The Arkells picked up a trophy for New Group of the Year based on the strength of their debut album Jackson Square. This album tweaks honest blue collar rock n' roll just enough to make it both fresh and timeless. "Pulling Punches" invokes a "Dancing in the Dark" feeling:
Finally, The Good Lovelies took home Roots Album of the Year. Their bio calls them the "perfect antidote" to recession caused doom and gloom and they would be right. Their self-titled debut is a beautiful and playful reflection on life, love and the wonderful little things that make it all worthwhile.