Canada's troops are supposed to leave Afghanistan in 2011. As the conflict drags on and the death toll rises, the Canadian government and military plan for the next decade of war—this time with Canadian jets dropping the bombs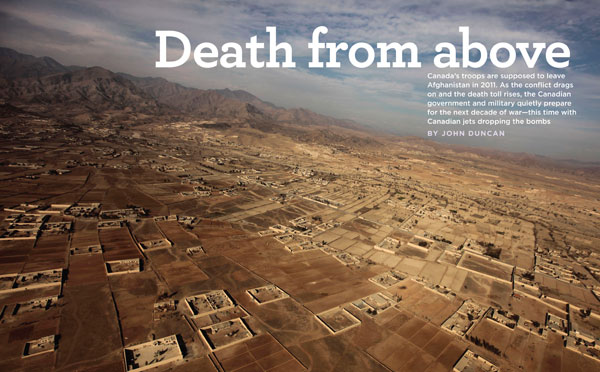 On Monday, November 3, 2008, while on patrol in Afghanistan, near the village of Wech Baghtu in the district of Shah Wali Kot in Kandahar province, international and Afghan pro-government troops came under fire from insurgents. The ground troops called in "close air support," military aircraft that bombard enemy positions—in this particular case, as in most in Afghanistan, U.S. Air Force and Navy jets armed with GPS and laser-guided munitions.
The following day, the U.S. Air Force Print News reported that they dropped several 300-kilogram bombs "onto a building where anti-Afghan forces were hunkered down and firing at coalition forces near Kandahar. The mission was confirmed a success."
Approximately 24 hours after the bombing, while most of the world was focussed on election day in the U.S., bombing victims began arriving at the radically under-resourced Mirwais hospital roughly 100 kilometres away in Kandahar City. That was when the story was picked up by Jessica Leeder and Alex Strick van Linschoten for the Globe and Mail. Villagers claimed the assault hit a wedding party—which according to local tradition separates women and men for most of the day. Later the United Nations Assistance Mission in Afghanistan (UNAMA) reported that although pro-government sources "claimed that insurgents used villagers' houses to attack the patrol and had infiltrated the wedding-party compound that was bombed…. eyewitnesses and victims interviewed by UNAMA … strongly denied the presence of any insurgents at the wedding party."
After the attacks, victims reported, international troops took pictures of the carnage, which intimidated and delayed them. Days later, reporting from the hospital for Al Jazeera English, David Chater interviewed Khowrea Horay, a hospitalized 16-year-old, who said: "We ran into the garden when the bombing started, but they bombed us there as well. I suddenly realized my foot was in small pieces. I saw my cousin lying dead next to me, the bodies of my relatives all around me. The Americans … saw us. They realized we were women.
They even shone lights on us, but they kept bombing and their soldiers were firing on us."
Disturbingly, Shah Wali Kot was the second wedding bombing of 2008. Early on July 6, a wedding in Nangarhar province was beginning according to custom with the entire family of the groom escorting the bride from her home to meet the groom at his. While crossing a mountain pass, at least three bombs were dropped on the procession. Despite initial claims to the contrary by U.S. forces, no insurgents and approximately 35 children, nine women, and three men—all civilians—were killed in the attack. On August 22 a bombing strike hit a memorial service in the province of Herat. U.S. forces initially claimed that between five and seven civilians died in that incident, but later video footage seemed to verify local claims that some 90 villagers were killed. Six weeks after the memorial bombing, the U.S. concluded that 33 civilians had died; UNAMA put the toll at 92 civilians, including 62 children.
Soon after Herat, the then commander of international forces in Afghanistan, U.S. General David McKiernan, issued a "tactical directive" to his troops, which amounted to repeating existing orders—notably the requirement to avoid killing civilians whenever possible. Two months later the Kandahar wedding was bombed.
Maimed and left in the blast rubble to mourn at least 37 killed (locals put the death toll at 90), most of them women and children, we may guess what the people of Shah Wali Kot feel about our war in their country, but it is clear that alleging insurgent responsibility, delaying acknowledgment, and understating the number of people killed by airstrikes are tactics aimed at winning our hearts and minds, not theirs.
Such death from above, as alarming as it is, involves all pro-government forces, including Canadian forces. The tactic shows every sign of being a fixture of NATO's Afghanistan strategy for years to come, and whatever role they play there after 2011—the withdrawal date our government has pledged to keep— Canadian forces will continue to be involved in it.
Virtually nobody believes that the surge in U.S. troops in Afghanistan begun by President George W. Bush, and twice super-sized by President Barack Obama, will lead to a military victory. The insurgents will continue to use "asymmetrical tactics," or what we used to call guerrilla warfare back when the West was encouraging insurgents to use them—successfully—against Soviet troops in the 1980s.
Because NATO troops must be spread thinly, they often face ambush, and so depend on air superiority— thus far unchallenged—for combat support. Even doubling the number of troops on the ground would do little more than double the number of targets for insurgents. Virtually everyone was in agreement with the commander of NATO forces in southern Afghanistan, Dutch General Mart de Kruif, early in spring 2009, when he warned that "a significant spike" in violence would follow the first part of the surge. However, the General's prediction that it would be "planting the seeds" for "a significant increase in the security situation across southern Afghanistan next year" is not panning out. On average, NATO airstrikes killed a civilian every day during 2009, admittedly an improvement over 2008 when the average was more than 10 per week, but civilian deaths rose 14 percent overall in 2009, and pro-government forces were responsible for a full quarter of them. During the Iraq surge and counterinsurgency reorientation in 2007—the model currently being implemented in Afghanistan—both civilian deaths caused by pro-government forces overall and those caused specifically by airstrikes spiked radically, so it is unlikely that civilian deaths will decrease in Afghanistan anytime soon.
The problem is that while commanders know airstrikes kill Afghan civilians, the mission is impossible without close air support. A declassified Pentagon report on a May 4, 2009, bombing in Farah province that killed 86 civilians (according to the Afghan Independent Human Rights Commission) determined the strikes happened despite the fact commanders could not "confirm the presence or absence of civilians" in the targeted village buildings, and this "inability" was "inconsistent with the U.S. Government's objective of providing security and safety for the Afghan people."
The implication is that in cases of such an inability, bombs ought not to be dropped. In fact, on July 2, 2009, the new commander of international forces in Afghanistan, U.S. General Stanley McChrystal, issued yet another tactical directive to international troops in Afghanistan, calling for a "cultural shift": "Commanders must weigh the gain of using … [close air support] against the cost of civilian casualties…. The use of air-to-ground munitions … against residential compounds is only authorized under very limited and prescribed conditions." This is but one element in the massive reorientation McChrystal is calling for. Charged with turning the mission around, he is attempting to change it from an anti-insurgency to a counterinsurgency operation, which requires winning the support of the population as much as killing Taliban. The stakes are high. In his August 2009 report, written eight years into the war, McChrystal wrote: "Failure to gain the initiative and reverse insurgent momentum in the … next 12 months … risks an outcome where defeating the insurgency is no longer possible." However, in the case of the Farah bombing (again, according to the declassified report), the ground force commander concluded that a particular group of individuals "presented an imminent threat to his force." It is inconceivable in such a case, where an "imminent threat" to pro-government troops is perceived, that the possibility of harming civilians would override the decision to call in an airstrike. Whenever troops are in perceived danger, close air support will continue to be used whether or not the presence of civilians can be confirmed, resulting inevitably in civilian deaths.
On December 5, 2001, while President Bush was signing into effect a law to make every December 7 a day to honour the fallen of Pearl Harbor, Hamid Karzai, now Afghanistan's president, "and a few dozen Afghan fighters, along with U.S. Special Forces advisers, were in a village called Shah Wali Kot"—the capital of the district by the same name. According to a sympathetic book on Karzai, written by Nick B. Mills, who was granted extensive interviews with the new Afghan President during the fall of 2005, Karzai was almost killed by a 900-kilogram satellite-guided bomb that morning, dropped by U.S. forces. Among the many casualties, five of Karzai's most experienced men and three U.S. servicemen were killed—the first U.S. soldiers to be killed in combat during the war. Initial coverage of this friendly-fire incident that almost killed Karzai himself was severely censored to manage perceptions at home. While Karzai, sitting blood-spattered amongst the rubble, received phone calls confirming the Taliban's surrender and naming him Afghanistan's interim president, the Pentagon and U.S. military officials near Kandahar prevented journalists from reporting the incident. According to the Committee to Protect Journalists: "Journalists from 11 U.S. news organizations," including CBS News, CNN, Newsweek, and The New York Times, "were confined to a warehouse while injured soldiers were transferred to the base for treatment. That night, the journalists were pulled out of Afghanistan altogether." From the beginning, close air support, its seemingly unavoidable and murderous consequences, and the urge to manage its public perception, have been essential features of this war.
Shah Wali Kot itself, with a population estimated at less than 40,000, is one of the districts with which the Canadian mission has struggled. The district, under Canadian jurisdiction for more than four years, is a microcosm of Afghanistan as a whole, with which the entire international mission has struggled for more than eight years. In late 2006, when the focus on Iraq still eclipsed Afghanistan, Sam Kiley, a correspondent for PBS's Frontline World, travelled to NATO's forward operating base (FOB) Martello, a formidable outpost built by Canadians earlier that year, to make a documentary called Afghanistan: The Other War. FOB Martello is located near the main road that connects Kandahar City to Tarin Kot in the province of Uruzgan to the north. Travelling from Kandahar City to FOB Martello—a distance of not much more than 200 kilometres—the road runs near the district capital of Shah Wali Kot, past the Arghandab River reservoir behind the Dahla Dam (the restoration of which is one of Canada's major development projects in the area), by the village of Wech Baghtu, to the tiny village of El Bak (where FOB Martello is located), and then out of both Shah Wali Kot district and Kandahar province toward Tarin Kot in Uruzgan. Kiley's reporting provides a rare candid look at the 120 Canadian troops stationed at FOB Martello. Their attempts to fight the insurgency, and especially to win the hearts and minds of the 30 families of El Bak, continually come up short, and usually because of very minor obstacles—for example, the inability to come up with what would be a few tens of dollars worth of sparkplugs in Canada. Along with soldiers' blogs, Kevin Patterson and Jane Warren's Outside the Wire, a collection of first-hand accounts by Canadians on the ground in Afghanistan, illustrates the same frustrating difficulty over and over again: asymmetrical war in an impoverished region makes mountains of molehills.
On April 22, 2006, four Canadian soldiers were killed near the Gumbad Platoon House, a Canadian outpost on another road running north from Kandahar City through Shah Wali Kot. That day General Rick Hillier talked with reporters about Canadian efforts to establish footholds in the area: "Shah Wali Kot is the area for a significant period of time, without question. The locals are absolutely ecstatic … that we are there," he said. "Things are actually changing on the ground."
Changeability became the dominant characteristic of the Canadian presence there: Within months, the new Gumbad outpost had been abandoned because Canadian troops were needed nearer to Kandahar City. While Kiley was still filming at FOB Martello, the troops were ordered to pull out there, too, in order to move closer to Kandahar City, abandoning the people of El Bak to the insurgents who very likely would punish them for working with the Canadians in the first place. Almost as quickly as they began, Canadian efforts to secure Shah Wali Kot, as well as other regions of Kandahar province, were largely abandoned in order to deal with formidable insurgent offensives closer to Kandahar City. According to the Globe and Mail's Graeme Smith, a detailed U.S. security assessment made available to the newspaper in July 2008 concluded that Shah Wali Kot had fallen back under Taliban control.
In early 2008, Canadian forces began moving up the road in the direction of El Bak again to put together the hundreds of massive squat cement slabs called Texas Barriers for a new FOB about 70 kilometres north of Kandahar City. FOB Frontenac, nicknamed "FOB Fabulous," apparently for its scenery and food, is located near the Dahla dam in order to provide security for the $50-million Canadian signature development project: repairing the massive, decaying dam facility. Recommended by the January 2008 report of the Independent Panel on Canada's Future Role in Afghanistan, chaired by former Liberal cabinet minister John Manley, "signature" projects are supposed to be genuine development projects that double as great symbols that ramp up the message that Canada really is in Afghanistan to help—the hope being this will win hearts and minds in a war zone. The three-year Dahla project was announced in June 2008 just as FOB Frontenac was completed. The main prize at Dahla is not electricity, but rather an extensive irrigation system with the potential to quench fertile but thirsty land in the Shah Wali Kot, Daman, Arghandab, and Panjwaii districts, as well as Kandahar City itself, serving 80 percent of the population of Kandahar province. Ongoing silting in the reservoir has reduced its capacity by perhaps 30 percent, the valves and gates that manage water-flow are no longer working, much of the canal system downstream requires restoration work, and there have been years of drought. The quantity of water in the reservoir and the control and delivery of its outflow have been so reduced the reservoir now irrigates well under half the territory it could reach. The goal seems to be to have the system back up and running by the 2011 end-date for the Canadian military mission in Afghanistan.
Another dam being restored by NATO about 100 kilometres west of Dahla is the Kajaki dam on the Helmand river—a project which has faced serious insurgency attacks. Back in June 2008, when the Dahla project was announced, reported predictions were mixed about whether or not it would attract insurgent activity. During the first few months of 2009, before the prime minister's surprise visit, five Canadians were killed and 14 injured in the area, presumably working on or near the dam or travelling to and from the FOB: on January 7, Trooper Brian Richard Good was killed (with three other soldiers wounded); on March 8, Trooper Marc Diab was killed (four wounded); on March 20, Troopers Corey Joseph Hayes and Jack Bouthillier were killed (three wounded); and on April 13, Trooper Karine Blais was killed (four wounded).
In each of these cases, as well as the incident that killed the four soldiers near Gumbad in 2006, improvised explosive devices (IEDs) did the killing. Because IEDs may be both concealed in the road when no troops are around, and remotely detonated, insurgents can use them to inflict significant losses without risking direct combat with technologically superior pro-government forces. To grasp the essential role of IEDs in Afghanistan it helps to look at the asymmetrical situation abstractly: (a) the insurgency meets superior progovernment forces on the ground, and is outmatched; (b) the insurgency adapts by avoiding direct combat and by adopting hit-and-run, ambush tactics; (c) pro-government forces respond with close air support, making guerrilla tactics much more dangerous, and so less effective; (d) the insurgency adapts by devoting resources to IED attacks. In the U.S. Marine Corps' September 2005 manual Improvised Explosive Device Defeat, it is acknowledged that IEDs are a weapon of choice for insurgents in asymmetrical warfare. The intervention of "technologically superior forces" in a region is likely to be met with "adaptive approaches," such as IED use, which "in selected niche areas" may "achieve equality or even overmatch" superior forces. Manufacturing, planting, targeting and detonating scores of IEDs, and evading technologically advanced counter-IED measures, is no easy matter, but increasingly it is the tactic of choice for insurgents in Afghanistan for whom combat against technologically superior forces and the death they hurl down from above is uselessly suicidal. Death from below the road surface, according to Canada's counter-IED task force established in June 2007, is now "the single largest threat to [Canadian Forces] personnel in Afghanistan."
Canadian troops have almost every technological advantage over Afghan insurgents, from portable high-trajectory smart-artillery cannons that can hit precise targets 40 kilometres away to the ability to call in U.S. airstrikes. U.S. Defence Secretary Robert Gates has told journalists that "between 40 and 45 percent of the close-air-support missions … are flown in support of our allies and partners," so while it is a U.S. plane dropping the bomb, it is often Canadian troops selecting the targets. Virtually all pro-government forces in the country have been using, and will continue to use, the close air support largely provided by the U.S. military; without it, they would be sitting ducks. Despite the fact that Canadian Defence Ministry officials call IED attacks "cowardly," the insurgent response to advanced weapons systems and close air support will not be to "stand and fight"— which would be absurd. The response will be, and is, the IED.
One of the reasons that motivated Pentagon insider Daniel Ellsberg to leak in 1971 the massive secret documentary record of U.S. policies in Vietnam, was that although the senior administration knew an indefinite commitment of U.S. air support was required in Vietnam, President Richard Nixon talked publicly about winning and ending the conflict. These days, Ellsberg points out, the official spin on the war in "Vietnamistan" is similarly troubling.
The pattern of hit-and-run guerrilla attacks met by overwhelming aerial bombardment, leading to improvised roadside bombs, is bound to repeat indefinitely. While Canada's Afghan mission is currently slated to end in 2011, virtually every analyst expects some kind of Canadian military presence long after. One possible scenario is that Canada reduces its ground troop commitment and takes to the skies, turning from a force that calls in airstrikes to one that flies them—as it did in the 1999 NATO bombing campaign in the former Yugoslavia. For example, in a March 26, 2009, National Post story, Matthew Fisher and Mike Blanchfield wrote: "Canada's combat forces are slated to leave Afghanistan sometime in 2011. It is widely expected that they will be replaced by a smaller force that may include helicopters, police and army trainers, a provincial reconstruction team and, Canada's fighter pilot community hopes, CF18 Hornet attack aircraft." Indeed, according to the director of the international air campaign in Afghanistan, who happens to be the Canadian Gen. Duff Sullivan, who has a long and distinguished career as a fighter pilot and commander (including the Yugoslavia campaign), and who was called the "air czar" by the former commander of international forces in Afghanistan, there are requests from mission headquarters in Afghanistan to bring in Canada's Hornets before 2011. There is also lobbying at home to "send in the Hornets," as former chief of defense staff and retired general Paul Mason urged in an Ottawa Citizen op-ed in January.
This year, the Canadian Air Force is due to complete a C$2.1 billion, two-stage, mega-upgrade program for the fleet of Hornets, and a short Department of National Defence video on the Canadian Army website, entitled "Close Air Support: A service to ground troops," has Maj. Scott Greenough explain: "Certainly … the Canadian fighter force … has turned its training emphasis onto close air support in the event that we would deploy to Kandahar, let's say, in Afghanistan to support the troops on the ground with close air support … It's become a huge part of the fighter force training element … Close air support is basically our training emphasis right now." Is Canada preparing to replace its ground troop contingent in Afghanistan with CF-18 Hornets? It is still too soon to tell, but preparations have been made. Whether or not Canada plays a role in Afghanistan after 2011, security will remain a mission priority. Because security in Afghanistan will depend on close air support for the foreseeable future, Canada would therefore continue to be involved in the murder of Afghan civilians after 2011.
In a famous interview from January 1998, Zbigniew Brzezinski, national security adviser to U.S. President Jimmy Carter, said "we knowingly increased the probability" that the U.S.S.R. would invade Afghanistan, which "had the effect of drawing the Russians into the Afghan trap.
"The day that the Soviets officially crossed the border, I wrote to President Carter. We now have the opportunity of giving to the U.S.S.R. its Vietnam War. Indeed, for almost 10 years, Moscow had to carry on a war unsupportable by the government, a conflict that brought about the demoralization and finally the breakup of the Soviet empire."
For the foreseeable future, Canada is going to be in Afghanistan trying to evade IEDs and either calling in close air support missions or flying them. Whether the threat is airstrikes from above, or improvised explosive devices from below, the "Afghan trap" has lured in a new set of victims.