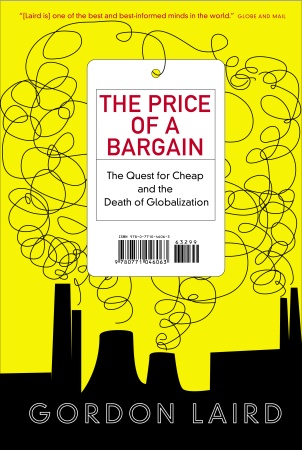 Gordon Laird, the Alberta investigative journalist and a former This Magazine one-man-band — at one time in the early '90s he was simultaneously the magazine's advertising sales rep, circulator, business manager, and a member of the editorial collective — has written a new book, and it's a doozy. He's in the midst of launching The Price of a Bargain: The Quest for Cheap and the Death of Globalization, and in the next few days you have the opportunity to meet him at launches in Ottawa, Toronto, Burlington, and Calgary.
On Friday, October 23, he's talking at the Ottawa International Writers' Festival at noon [pdf], at Saint Bridgid's Centre for the Arts and Humanities, 314 St. Patrick Street. $15/$10
On Sunday, October 25, he's holding an impromptu launch in Toronto at 2 p.m. at the Concord Café, 937 Bloor St. West (with top-secret one-day-only 50% off the hardcover price!). Free.
On Monday, October 26, he'll read at the Burlington Public Library Time TBA, looks like. Call the Burlington Public Library at 905-639-3611 for further details. $10.
Finally, the following Sunday, November 1, he'll be speaking as part of the first Pages at the Plaza event at 11 a.m., at The Plaza Theatre, 1133 Kensington Rd. $5 admission, or $15 including lunch!
I haven't finished reading the book yet (about halfway through) but what I've read I can fully recommend. It's a sometimes dizzying but very readable plunge into the kaleidoscopic krazy kwilt of the modern consumer economy, highlighting the strange forces that link super-discount retailers in Las Vegas, rig-jumpers in Alberta's Athabasca tar sands region, Shenzhen wage-slaves, and undocumented Mexican fruit-pickers. And for progressives who have always railed against the forces of Globalization, he shows that the process of "Deglobalization" is likely to be just as painful. I'll be at the Toronto launch on Sunday, hope to see you there.