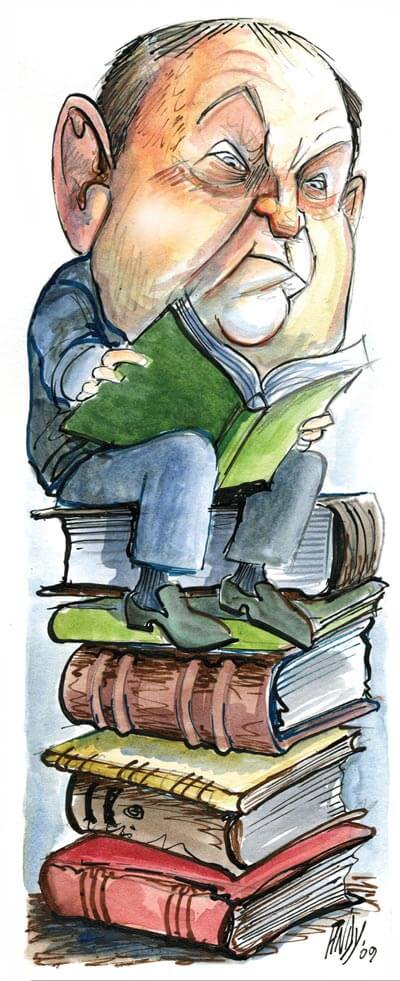 On June 9, Nova Scotians elected the province's first ever NDP government, lead by former Navy public-information-officer-turned-journalist-turned-lawyer Darrell Dexter. This caught up with the new 52-year-old premier about a month later, just after he had attended a Paul McCartney concert in Halifax.
This: Did you meet McCartney?
Dexter: I did. It was quite a highlight. When you were a kid if someone tells you that you're going to meet one of the Beatles you probably wouldn't believe them. My wife and I took a poster from his Venus and Mars album. We asked if he would sign it, which he very graciously did.
This: Are you a music guy?
Dexter: Absolutely. I like a very broad range. I am not a person who is stuck in one genre or another, although my wife will accuse me frequently of having the radio welded on the '70s station. The other night I went to see Willie Nile, sometimes referred to as the troubadour of New York. He was fabulous. I also went to KISS [recently]; and one of my favourite things to do is to see John Prine.
This: Are you an avid reader?
Dexter: Oh, yes. Right now I am reading The Maple Leaf and the White Cross, which is the history of St. John Ambulance. It might not sound like an exciting book, but is extraordinarily interesting and follows its development in Canada. For quite a while, I was diligently working through all the Agatha Christie books. They are easy to read and I would pack two or three of them if I had a week off.
This: Now I assume you're reading a lot of briefing books.
Dexter: Yes, I am. This job is like trying to take a drink out of a firehose. It's a lot of stuff, a lot of material in a short period of time. But I enjoy it.
This: Is there a concise way of telling Canadians what your government's vision encapsulates?
Dexter: I always find the vision question somewhat trite. Everybody has the same overarching view that you want your province to be a place where people can live in relative comfort and security. [We need to] encourage young people to put down roots and stay. We are going to reach a point in about 15 years when a quarter of our population is going to be over 65. We are already experiencing shortages in some skills groups. We have a tremendous university and community college sector here. I am trying to find ways not only to keep our own young people here, but the [thousands of] young minds coming to our institutions should be a wellspring we can draw from.
This: How would you describe yourself politically?
Dexter: I have always said I am a quality-seeking individual who operates in a very pragmatic and practical fashion. There is a little something we tell our friends around here. For a long time [in Nova Scotia] we had progressive conservatives and now what Nova Scotia wants are conservative progressives. I think people tend to see me in that light.
This: I wonder if there are days when you wake up and think, "I'm the premier, I can't believe this."
Dexter: I won't pretend that I don't reflect on that. I grew up in a very rural community, a little place called Milton. It's been a very long journey. My father passed away a number of years ago. I am sure if he was around he would find it unbelievable I have made my way from there to here. Fortunately, my mother, who will be 91 in October, was able to be at my swearing-in. My family knows, all of them, that I couldn't have made it here without their love and support.