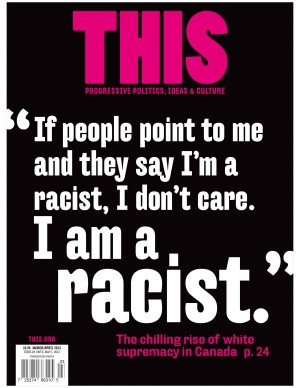 By subscribing to This Magazine, you get the best of Canadian independent progressive journalism delivered straight to your door—and you help support the kind of no-compromises reporting that big corporate media doesn't do. Get six or 12 unconventional and provocative issues, delivered right to your door, each for less than the price of a non-fat latte (tax included!)
Buy now!
One year: $27.99
Two years: $42.99
We can ship to any country in the world serviced by Canada Post. Click here for international subscriptions.
Please allow 6-8 weeks for delivery of your first issue.
Publisher's guarantee: If at any time you decide This Magazine isn't for you, simply cancel and we'll refund you for any remaining unmailed copies.