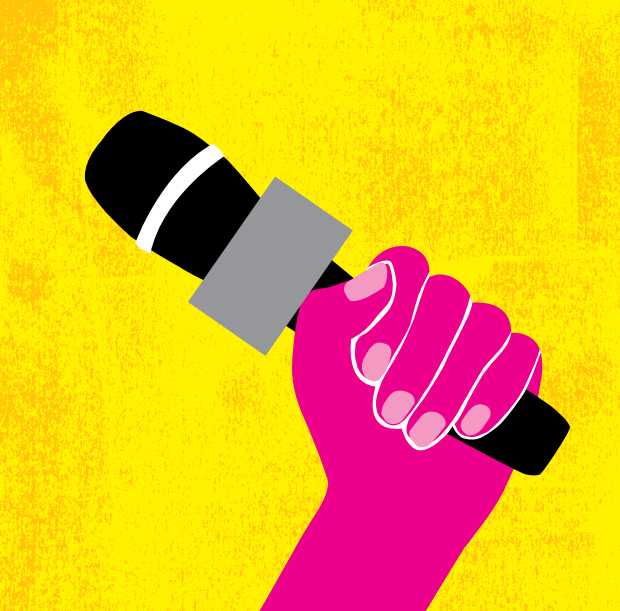 For a long time I thought of journalism as something I did in my spare time, not as a part of my identity. I was lucky enough to stumble into this field, becoming arts editor at the Varsity, the University of Toronto's student newspaper, in 2016. Then the wave of sexual harassment allegations began.
Story after story broke with revelations about so-called trusted names in news accused of sexual misconduct in the workplace. I began reconsidering my new career in media.
Some, like Mark Halperin of MSNBC, were accused of propositioning employees and engaging in unwanted sexual touching. A Vox investigation alleged that Glenn Thrush of the New York Times placed several young female reporters in uncomfortable romantic situations before spreading disparaging rumours about them in the workplace when his advances were rejected. Ryan Lizza was dismissed from the New Yorker for what the magazine cited as "improper sexual conduct."
I began to think that being a woman in media meant condemnation to a lifetime of small injustices: mentorship conditional on acquiescence, fear that collegiality will be interpreted as romantic interest, weathering vengefulness after rebuffed advances.
While an individual incident might not have lasting repercussions, experiencing a pattern of harassment over years has likely prompted many women to reconsider their careers, if not abandon the industry entirely. Was a life in media worth it? I wondered if there were other aspiring journalists who shared my anxieties. Had these scandals made them reconsider their career plans?
Ann Rauhala, an associate professor at Toronto's Ryerson School of Journalism, is a 29-year veteran of news media in Canada, having worked at the Globe and Mail, the Toronto Star, and the CBC. She's seen this problem play out throughout her career. "This is an old story that is finally getting the light of day," Rauhala says. But now, the public appears to have reached a "critical mass" moment with survivors of sexual harassment coming forward. "The whole #MeToo response, I think, is serious and important," she says. "It is based on decades of outrageous behaviour that women in workplaces have endured. It's pretty gratifying, to tell you the truth, to see it emerge."
While many stories of misconduct have revolved around American outlets and reporters, Rauhala suspects that similar allegations may soon emerge in Canadian institutions as well. "I do hope that there are some sexual predators and sexual harassers who are not sleeping well these days," says Rauhala. "Good. I'm happy that they're not sleeping well."
Days after I spoke to Rauhala, CTV News broke the story that two women had accused Ontario Progressive Conservative leader Patrick Brown of sexual misconduct, stemming from separate instances. Within hours, Brown resigned. In response to coverage of the Brown story, former broadcaster Bridget Brown described in a blog post an incident in which an unnamed CTV reporter is alleged to have forcibly kissed and exposed himself to her. Soon after, the outlet suspended Queen's Park correspondent Paul Bliss.
Like me, Moira Wyton was disheartened by the plethora of allegations against prominent media men, those we trusted as reliable sources of information or held as sources of professional inspiration. Wyton, features editor at the University of British Columbia's student newspaper, tells me that she was saddened by the implications of these numerous allegations. "I think about all the women who weren't able to fully participate in the industry and who weren't able to fully practice their craft," she notes, "or were practicing it with fear and intimidation."
At the Varsity, I spoke to Josie Kao, one of our associate news editors, who plans to pursue journalism after graduation. While media scandals haven't altered her career plans significantly, Kao says, it has forced her to acknowledge the many barriers between her and a secure job in the journalism industry with "respect and decent pay."
Still, she was hopeful that this public outcry would set a precedent for herself and other young female reporters. "I'd like to hope that if anything like this happens [to me]," Kao says, "I'd feel more confident speaking out against this, now that I know people in the media have done this before… and not been harassed out of existence."
Both Wyton and Kao cited journalism's strict hierarchies and competitiveness as potential reasons these incidents may occur more frequently. "You eat what you kill," says Wyton, adding that by virtue of the job, journalists relinquish responsibility of their work to a hierarchy that decides its final form.
One's desire to speak up may also be outweighed by the instinct to protect a professional reputation. "Women are incentivized to stay silent, because you just want to prove that you can do it, and that you can function in the industry," says Wyton.
Student journalism is often where many begin to seriously consider careers in media, says Sierra Bein, editor-in-chief of Ryerson's student newspaper, the Eyeopener. The platform enjoys a certain power to serve as a staging ground for implementing changes to workplace culture. "It's definitely given us, and myself, a reason to look back at our newsroom," says Bein.
The news presents an opportunity to examine why these issues may occur, and what steps can be taken to ensure a positive and valuable newsroom experience. As student journalists, "we're not in the mainstream yet," Bein says. But, she adds, "we're going to be there very soon. So it's something for us to be watching and whispering about on our own."
At the University of King's College in Halifax, assistant journalism professor Terra Tailleur runs a newsroom of more than 20 journalism school students. Aspiring reporters need to know their options when encountering workplace harassment, she tells me, including finding allies or mentors in the office.
While her newsroom's previous discussions about harassment in journalism had focused on external concerns, Tailleur says my query about misconduct had prompted her class to discuss how to hold her accountable in creating a safe work environment. "I'm not just a classroom, I'm a newsroom," Tailleur says. "I have to create an environment where they can learn and they can thrive and they can do their jobs, which means that I can't have anyone harassing these students."
Hearing that, I felt satisfied—at least for now, hoping that I had helped fellow student journalists feel secure in their job. The burden of improving this industry sits on all of our shoulders. Future journalists, I believe, are doing their share—it's time for our elders to step up, too.
---
UPDATE (04/13/2018): A previous version of this story incorrectly stated that Terra Tailleur is an associate, not assistant, journalism professor at King's. This regrets the error.