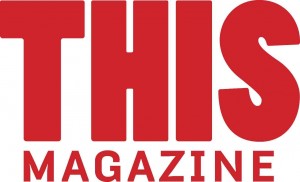 Are you bursting with creative magazine design ideas? Does it make your day to discover new and exciting Canadian photographers and illustrators? Can you make miracles happen on a shoestring budget? Now in its 50th year, This Magazine is an award-winning, bi-monthly magazine of progressive politics, ideas, arts and culture. We are currently seeking a keen art director to join our small and dedicated team. This Magazine is a not-for-profit publication devoted to journalism about topics that are under-covered by mainstream media and is a steadfast independent and alternative voice.
The ideal candidate will have a proven track record of creating bold, eye-catching covers; an ability to bring the magazine's personality to life on its pages; and a knack for creative and resourceful thinking. In partnership with the editor and publisher, the art director will also have the opportunity to refresh This Magazine's visual identity for its anniversary year. This role will foster innovative design, interest in independent media, and an enthusiasm for print publishing.
Responsibilities:
Design and layout of each issue to meet magazine's standards of excellence
Create bold, outstanding and visually appealing newsstand covers, in partnership with editor and publisher
Discover and develop new Canadian talent, as well as maintain a roster of freelance photographers and illustrators
Work with editor and publisher to refresh the magazine's look for the 50th anniversary, with the goal of visually reflecting the magazine's personality and achieving brand cohesion
Assign and assist direction of all visual content for the magazine, i.e., photos, illustration, etc.
Produce each issue of the magazine by publication deadline; meet all interim production deadlines
Strict adherence to the per issue arts budget
Liaise with printer and guide magazine through necessary post-production steps
Qualifications:
Understanding of the restraints and resources of a small magazine, as well an ability to stretch the magazine's modest resources
Established network of freelance visual creators (preferably national)
Ability to visually reflect the magazine's editorial personality via design choices
Understanding and belief in the magazine's mandate and brand
Proficiency in Adobe InDesign, Photoshop and Illustrator
Excellent communication and teamwork skills
Experience, knowledge and enthusiasm of designing print publications
Strong attention to detail and process
Ability to multitask, effectively balance conflicting priorities and troubleshoot with confidence
An understanding of cross-platform design and the importance of brand consistency
As a contract employee of This Magazine, the art director is paid a per issue fee, based on experience.
Interested candidates are asked to send their cover letter, C.V. and a link to their online portfolio/website to Lauren McKeon at [email protected] by February 22 at 6 p.m. EST with the subject line "Art Director Application." Any questions may also be directed to [email protected].