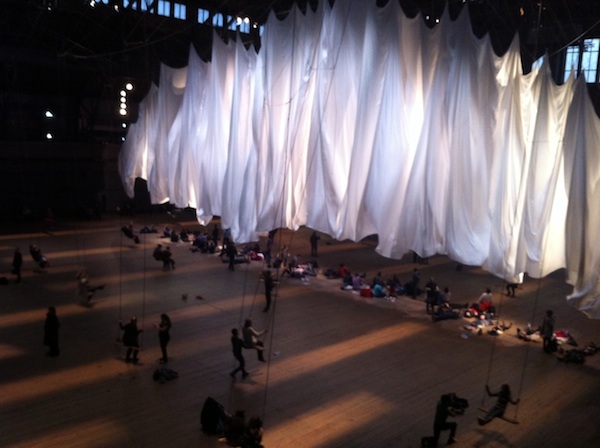 When was the last time you climbed on a swing? Not the publicly funded, safe helicopter-parental playground kind, but a backyard homemade one, constructed with palm-scratching ropes and a shaky wooden board that threatens to cause a splinter, or worse.
I had forgotten the sensory thrill of the swing until Christmas, when I experienced Ann Hamilton's The Event of a Thread, a large-scale, performance-art installation at the Park Avenue Armory in New York City. The building's 55,000-square-foot drill hall was taken over by 42 wide swings, sheathed in spotlights. The planks hung by an enormous pulley system that also manipulated a billowing white curtain, which divided the room in half — the more people swung on either side of it, the more the curtain danced. Those who weren't swinging were lying under the white sheet, enjoying the breeze as if it was a day at beach, and not a drizzly December afternoon.
Of course, participatory art that involves the general public is not a new thing; it was popularized in the 1960s by conceptual artists like Yoko Ono, but in many ways feels more relevant in today's isolating tech-driven society. Last year, Marina Abramović's MoMA retrospective, The Artist Is Present, brought some museum-goers to tears as they stared into the artist's eyes (and inspired a Tumblr). Closer to home, Toronto's Mammalian Diving Reflex has become popular with projects such as "Haircuts by Children" and "Slow Dance with Teacher."
Sometimes participatory art is political, meant to expose the elitist shortcomings of the museum system. It can be about ritual and process, or engaging audiences who normally aren't approached to join in these sorts of activities. It can also seem gimmicky. All I know is after spending almost two hours at The Event of a Thread, I felt a reconnection with my kid self, the one who sadly can't jump off a swing for fear of landing on her face, but is jealous of those who do so seemingly without a worry. I was also struck by how connected everyone here was — without the swingers, there is no art and no spectacle.
This got me thinking about my own approach to art, and so I resolved that this year I will participate more, enjoy the creative process rather than always skipping forward, worrying about the results. I also vow to put down the iPhone and actually have conversations and maybe a few more real-life experiences, even if it does mean a face-plant or two.