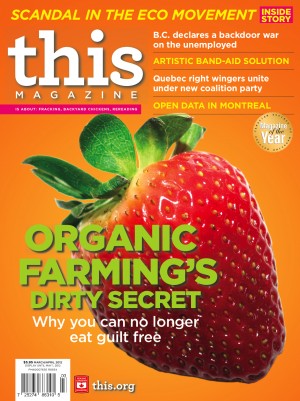 The March-April 2012 issue of This Magazine (that's it on the left there!)is now in subscribers' mailboxes (subscribers always get the magazine early, and you can too), and on sale on better newsstands coast-to-coast right now. Remember that you can subscribe to our RSS feed to ensure you never miss a new article going online, or follow us on Twitter or Facebook for updates and links to new articles as they're posted.
Lots more great things to read this issue, including Annie Crane's cover story on organic farming's growing dependance on migrant labour. And there's Andrew Stobo Sniderman's inside scoop on environmental iconoclast Tzeporah Berman's spectacular failure, Powered Up, a project that many say should have changes Canada's climate politics. Plus, Karen Segal gives us the skinny on British Columbia's new employment services model. It's designed to help jobseekers find jobs fast—but will it leave the province's most vulnerable behind?
Plenty more, of course: Kyle Dupont has strong feelings about fracking for natural gas in New Brunswick; Stephanie O'Hanley tells us four cool and not-so-cool things about Montreal's new open data policy; Lauren Gillett investigates whether bioplastic packaging is more hype than help; Susan Peters asks whether Cuso International can keep foreign volunteerism relevant; Kim Fu looks at centrist claims in Quebec's new coalition party with skeptism; and Shannon Webb-Campbell introduces us to Andrew McPhail, whose quirky Band-Aid art explores the complexities of disease.
Plus: Paul McLaughlin interviews chicken crusader Lorraine Johnson; Matthew Kupfer on the activist movement to stop new power plants in Ontario; Antoine Dion-Ortega on the federal government's refusal to adopt the same mining transparency standards it preaches abroad; Sigal Samuel on the new condo development in Vancouver's Downtown Eastside; James Munson sends a postcard from Ghana; Lizzy Hill on the campaign to save Halifax's NSCAD University; Navneet Alang on bad web legislation; Christina Palassio on rereading; and reviews of Stephen Hren's Tales from the Sustainable Underground, Jamie Popwich's Metraville, Carolyn Black's The Odious Child, and Tristan Hughes's Eye Lake.
With new fiction by M.A.C Farrant, and new poetry by Walid Bitar and Nanci Lee.